Smart room booking software for smooth collaboration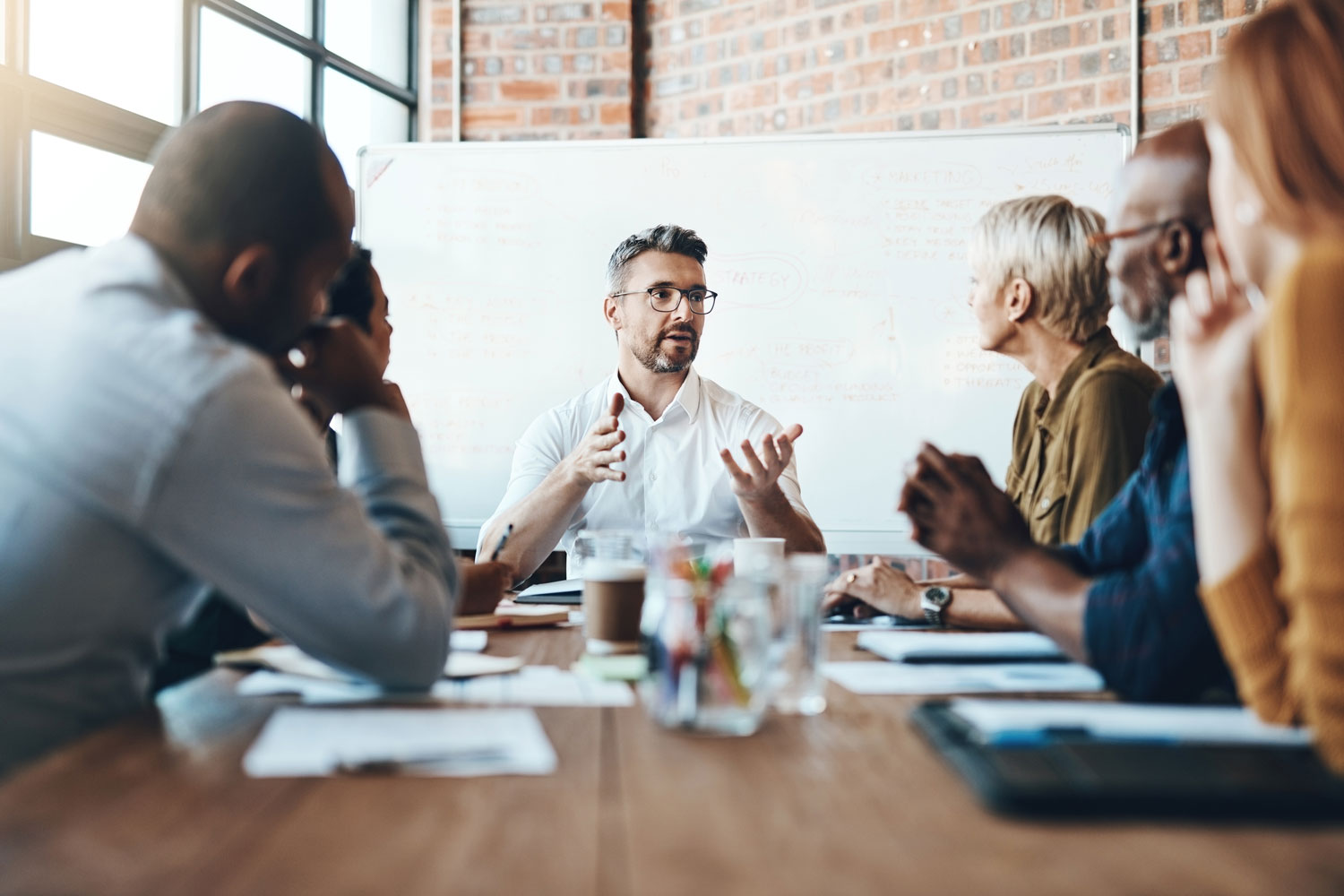 Reap the benefits of easy, fast, and affordable
Room booking software for hybrid workspace management
Clearooms lets you connect with colleagues in real-time and enjoy a seamless meeting room booking experience.
See instant availability of desks and rooms, and reserve your space – wherever you are, whenever you need with the Clearooms app.
Ready to upgrade your hybrid workspace?
Book a Demo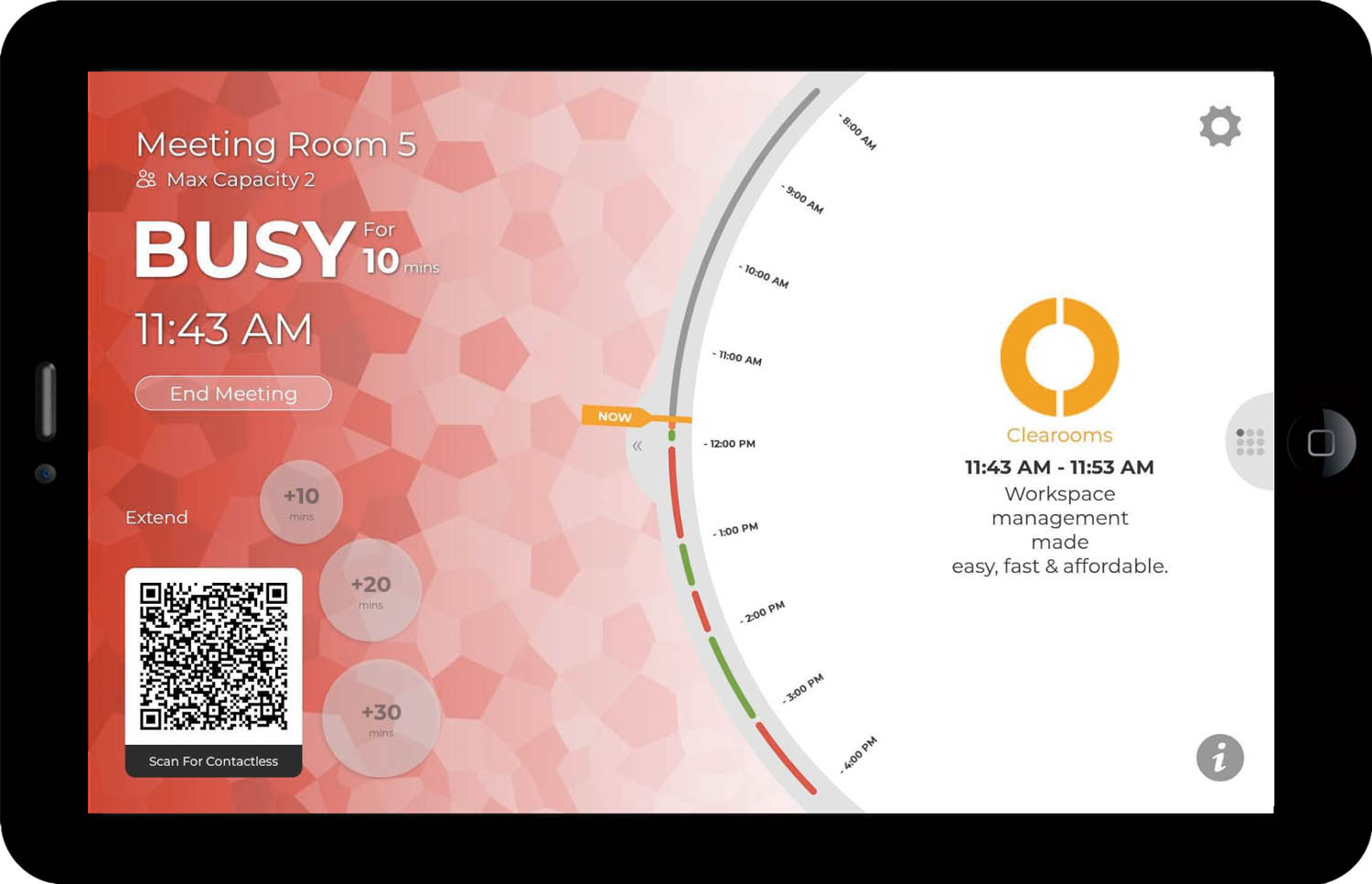 The clear benefits of Clearooms
Clearooms is all about making the task of room booking, effortless.
We're now in the era of hybrid work – flexible patterns that blend home working with office work.
To make hybrid working a success for your company, you need an intuitive room scheduling system that automates the room booking process for you.
A meeting room booking system is a centralised booking software. Through this, employees and visitors can see room availability, and book meeting rooms and desk spaces within a shared office - in -real-time.
The Clearooms App is an agile meeting room booking system that fully optimises your floor space and room resources.
Try for FREE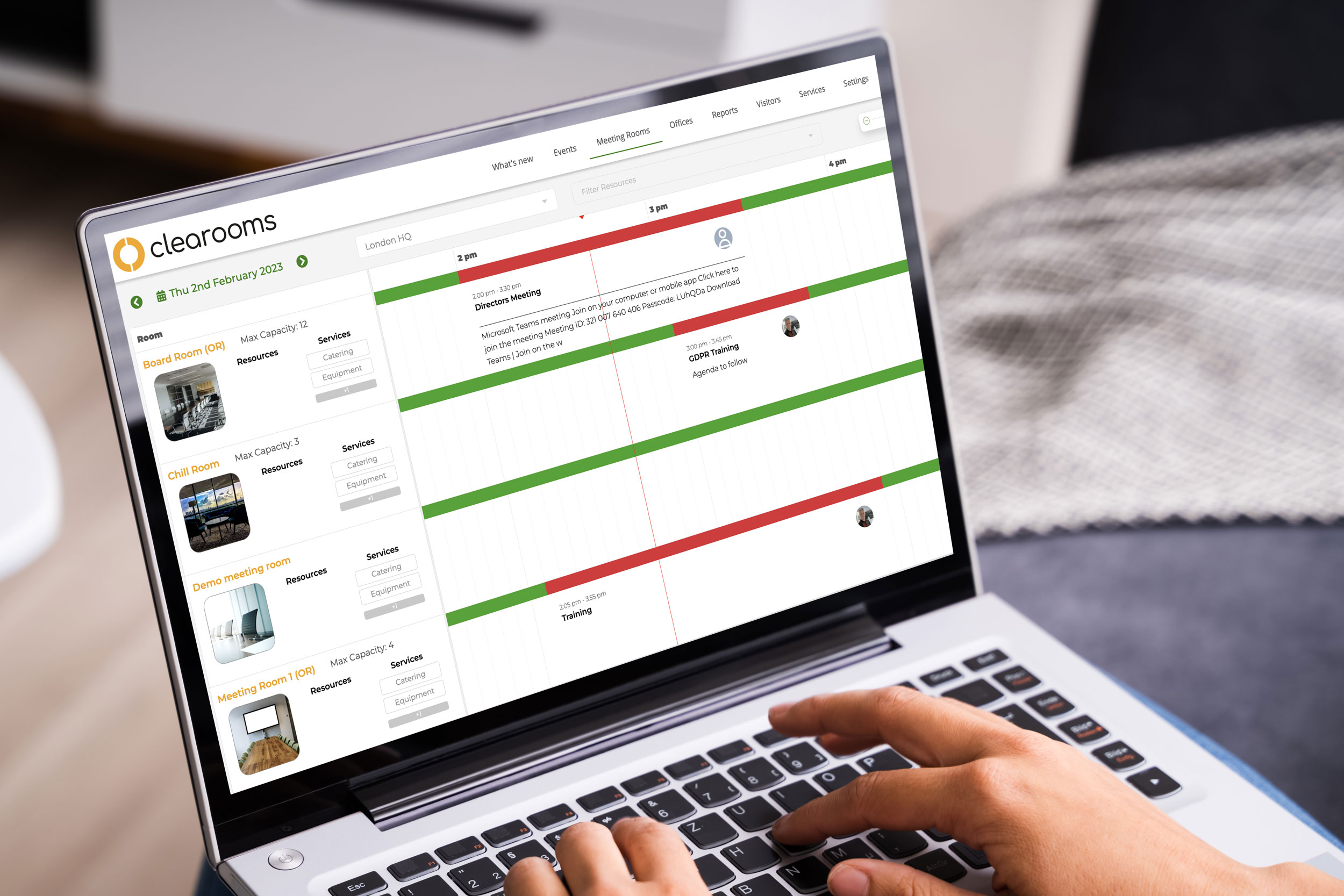 Feature-rich room bookings
Clearooms meeting room booking system comes complete with rich customisation features. They're designed to make the task of room bookings effortlessly simple, whilst giving you an optimal, fully-modernised meeting experience.
---
Quick set-up

Name your office, upload a floorplan, add your bookable rooms and desks, and then invite your employees.

Custom branding

Brand your individual meetings to give delegates a positive first impression - and label your departmental meeting for clear signage.

Privacy modes

Switch on privacy mode for your meeting – handy if you're discussing sensitive material.

Seamless digital integration

Full synchronisation with Google and Outlook for complete connectivity.
Say hello to our latest innovation
NEW! Meeting Room Kiosk
With this innovative new feature, you can now display room availability on a large screen, making it easier for your team to find and book the perfect meeting space.
Our Meeting Room Kiosk is the ideal solution for busy offices with multiple meeting rooms, as it provides a quick and easy way for employees to check room availability at a glance. No more wasted time wandering around the office trying to find an empty room – with the Meeting Room Kiosk, all the information you need is right there on the screen.
Our Meeting Room Kiosk is fully customisable, so you can choose the layout and colours that best suit your company's branding. You can even add your own company logo to the screen, making it a truly personalised experience for your team.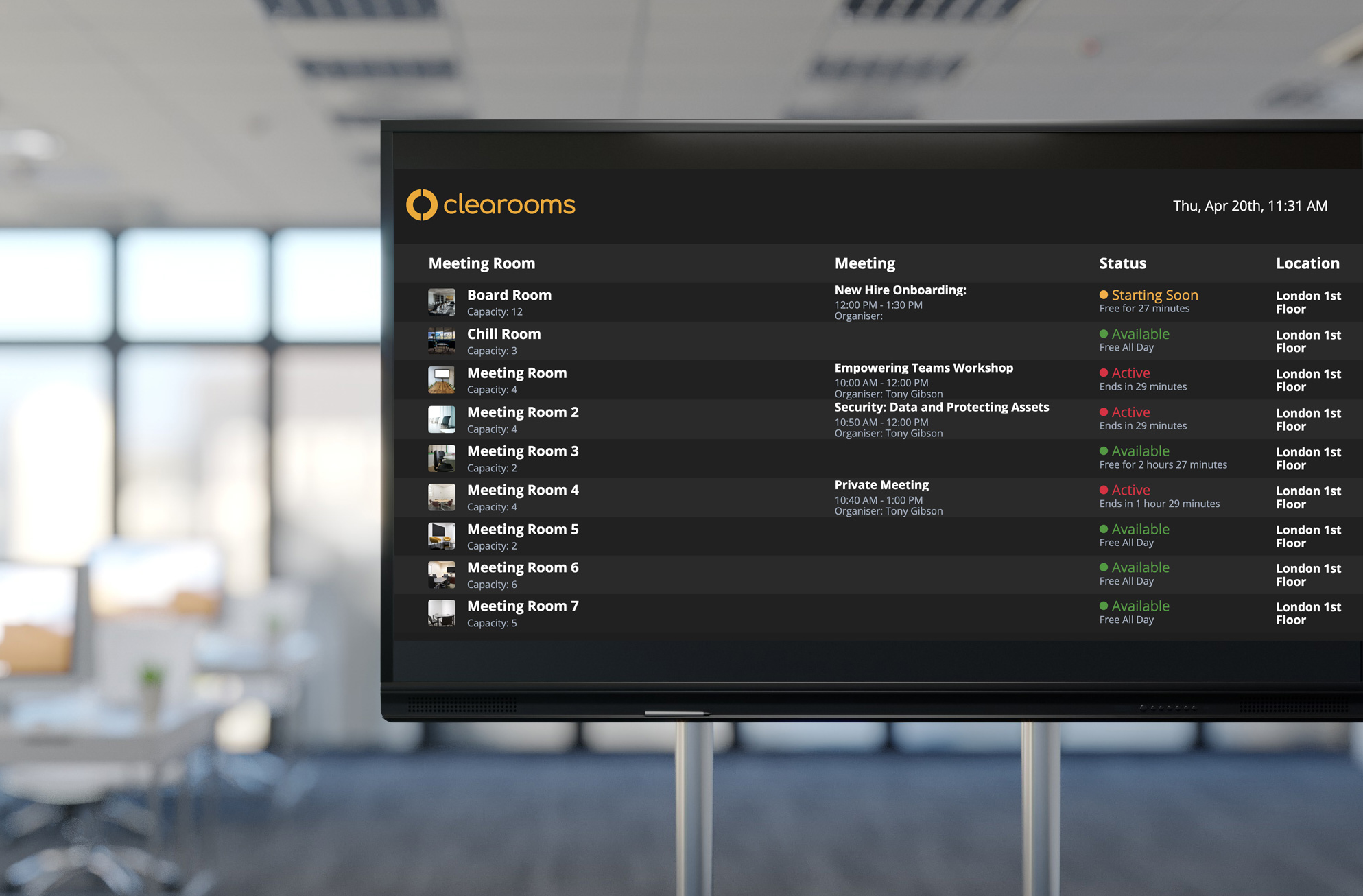 Efficient Meeting Room Management with Custom Rules:
The Unique Features of Our Booking Software
Our meeting room booking software offers unique features related to custom rules, such as the ability to restrict meetings to office working hours, set advance booking restrictions, limit meeting length, and set usage limits. These features allow for better control and optimisation of meeting room resources, ensuring that they are being used efficiently and effectively. Additionally, they can help to reduce conflicts and scheduling issues, making the booking process smoother and more streamlined.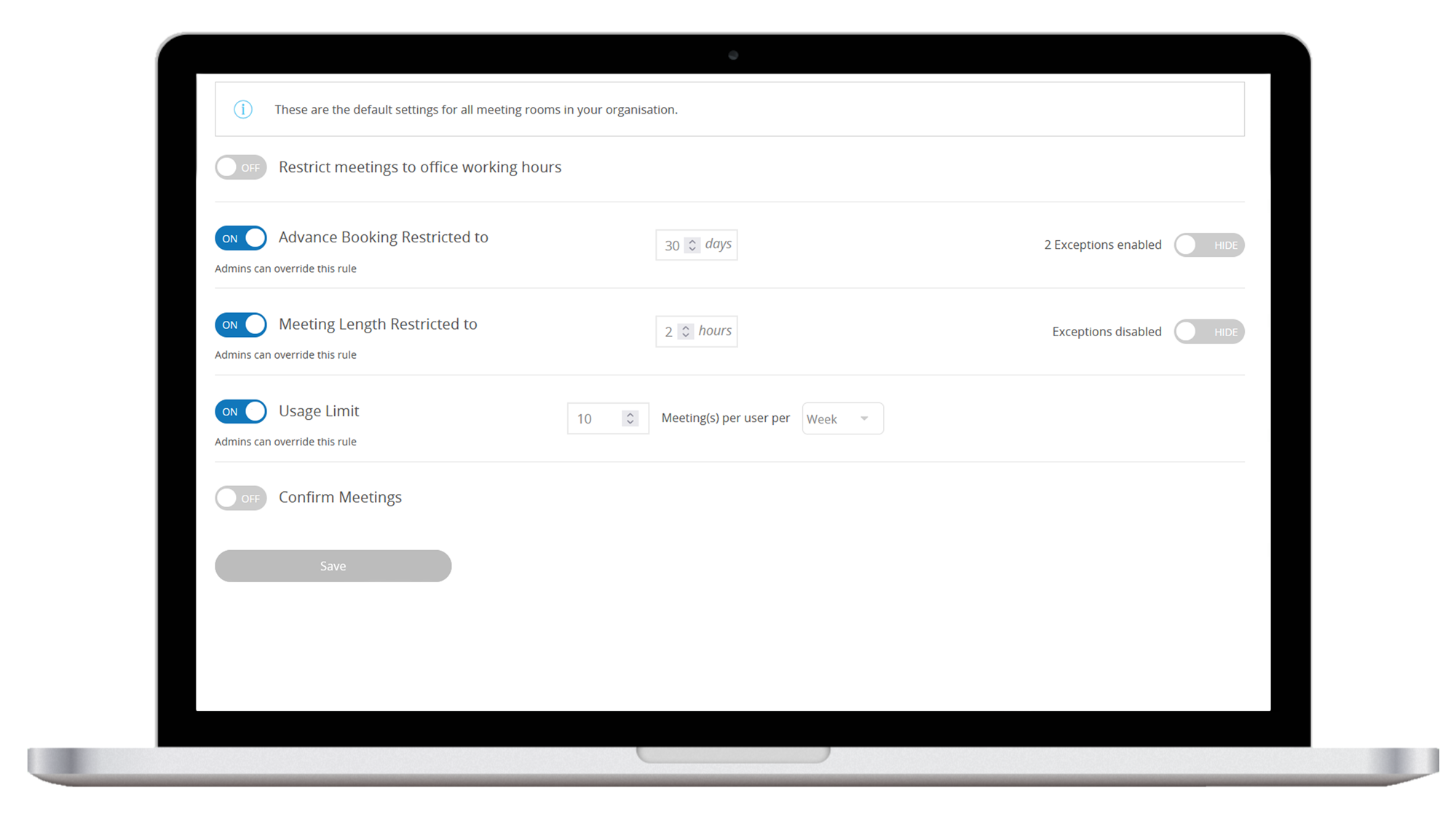 Room Service, just the way you want
Let's not forget that happy delegates mean a happy, productive meeting. With the Clearooms Room Services Module you can book refreshments with just a few taps on the screen.
Maybe you'd like coffee, hor d'oeuvres or something a bit more filling. Simply make your request on the Clearooms' app, which is then emailed to whoever needs to know – such as catering and services teams. You can also use the app to note allergies or specific dietary requirements.
Want to keep your delegates refreshed? Our in-depth guide to personalising your meeting with the Room Service Module explains everything.
Learn more about the room services module with Clearooms, and how it can give your meetings a little boost.
Your fully customised meeting space
The Room Services module gives you the freedom to design, and offer everything you need, for a successful meeting. From room layouts and catering to technology and accessibility, with the Services Module you can custom-build each meeting to your specific needs.
Configure your room exactly the way you want it with editable room plans. Whether it's boardroom or break-out style, rooms come with complete customisation and flexibility.
Need technology? With Clearooms you can tailor your requirements to each booking. If you need projectors and laptops, or want to make sure a white board is in place, this can be booked through the app.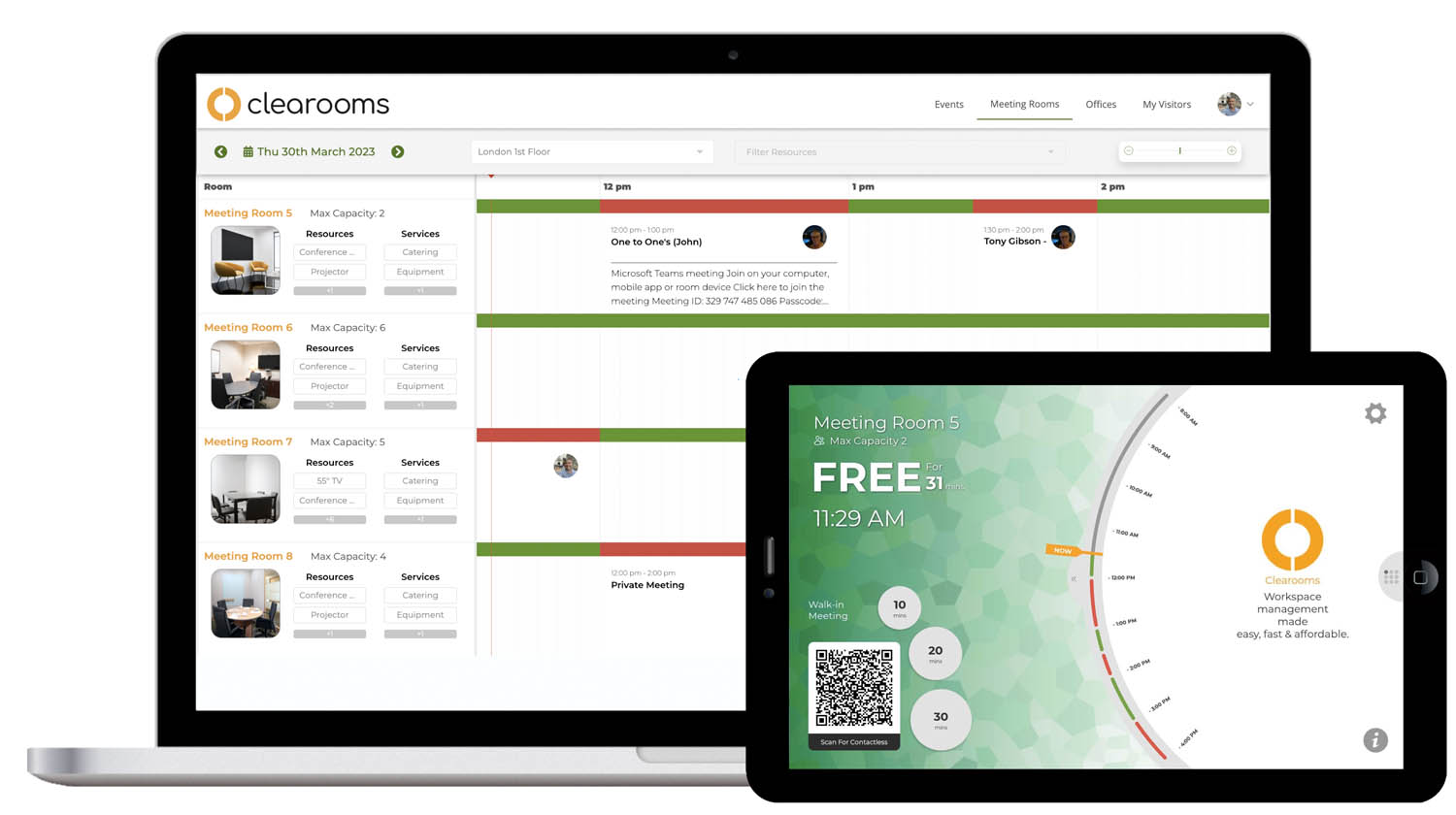 Your questions, answered.
How do we start the free trial?

First, you'll need to create your account in the Portal. When you have filled in your email and password, the onboarding wizard will start and help you through set up. You can choose to just set up meeting rooms, just hot desks, or both. The wizard has been designed to walk you through each of the steps to make it as simple as possible, but if you have any questions, please feel free to get in touch and we'll give you a hand.

Can Clearooms integrate with other systems/platforms?

Clearooms has an open API so you can integrate it with other software you use. You can find out more about our current interactions here, but please contact us to request access to additional documentation.

What hardware is needed for booking meeting rooms?

The Clearooms app will work with any Android or iOS device including PoE devices. We don't supply the hardware, so you can use any compatible devices you already have, or we can help you source them if you would like some assistance.

How to book a meeting room?
Let's get started! Book your free Clearooms demo today
Request a free demo today to find out more about how you can optimise your meetings with Clearooms.
You can also sign up for a FREE no-obligation trial – giving you use of all of Clearooms's features for free, for one month.
There's no up-front payment required, and you're under no obligation to subscribe afterwards.
If you have some burning questions or would just like to have a chat with someone about Clearooms, then get in touch with us today through our Live Chat. We look forward to hearing from you!