25 Sep 2023
Effortless Workspace Management with Clearooms & Microsoft Teams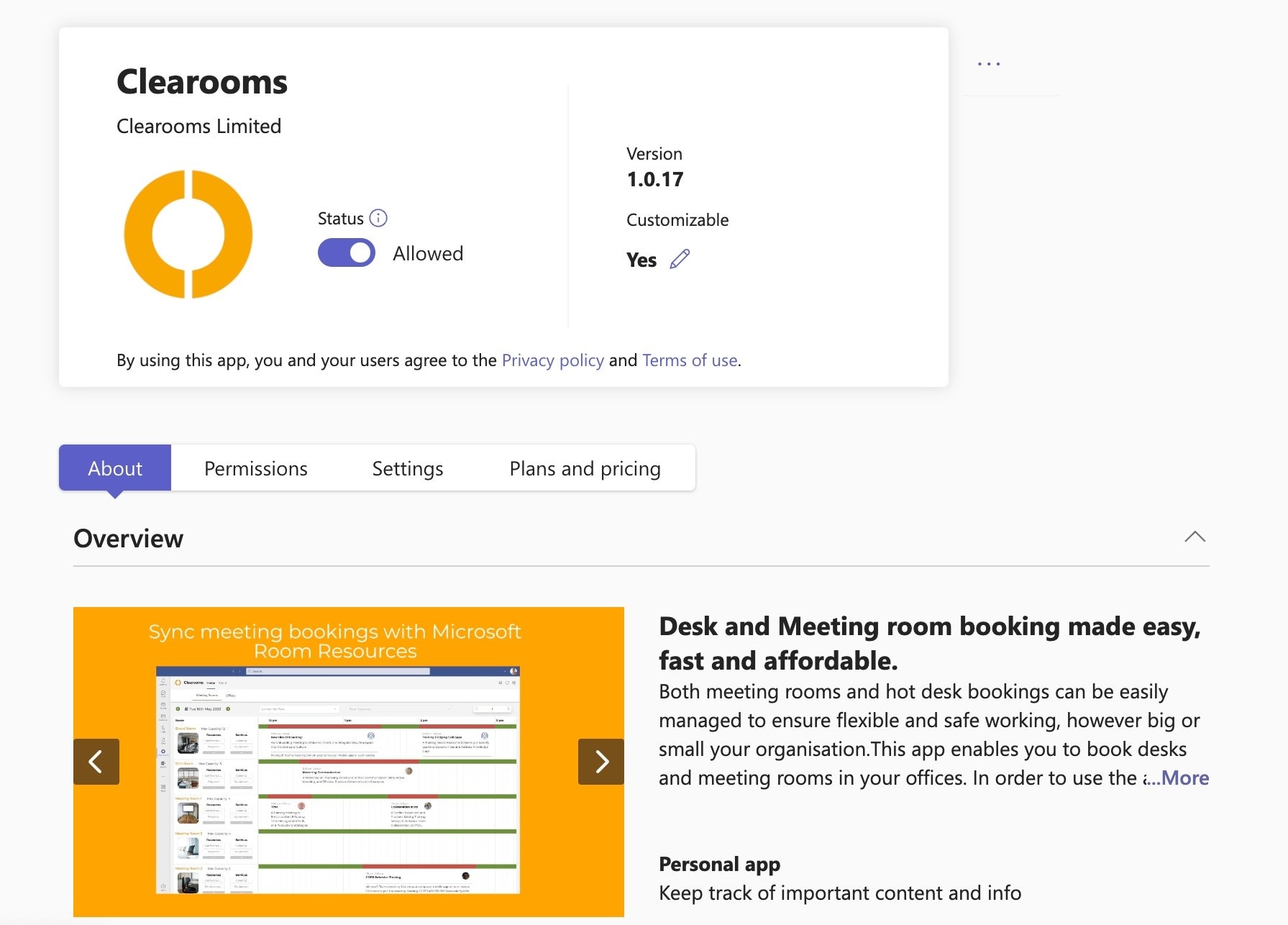 At Clearooms, we are constantly striving to provide our users with the best tools and solutions to enhance their workspace management experience. That's why we are thrilled to announce our latest integration with Microsoft Teams! This exciting collaboration brings together Clearooms' powerful features and the convenience of the Microsoft Teams platform, offering you a comprehensive solution to supercharge your teamwork, streamline communication, and boost productivity.
Here are some key benefits you can expect from this integration:
Seamless Desk Booking
One of the standout features of this integration is the ability to effortlessly book desks directly within the Microsoft Teams environment. No more switching between different applications or platforms. With Clearooms integrated into Microsoft Teams, you can easily reserve desks with just a few clicks, making workspace management a breeze.
Efficient Meeting Room Booking
For those who rely on meeting rooms for collaboration and presentations, our integration offers a seamless experience. You can now access all the Clearooms functionality for meeting room bookings, synchronised with your Outlook Room resources, directly from Microsoft Teams. This ensures that you always have the right meeting space when you need it, without any hassle.
On-the-Go Access
Stay connected and organized on the go. You can now access Clearooms directly from the Microsoft Teams mobile app, allowing you to manage desk and meeting room bookings anytime, anywhere. Whether you're in the office, on a business trip, or working from home, you'll have the power of Clearooms at your fingertips.
Getting Started with Clearooms on Microsoft Teams
Getting started with Clearooms on Microsoft Teams is a straightforward process. Here are the simple steps to follow:
Add Your Teams Tenant ID: Begin by adding your Teams Tenant ID into the Clearooms Plug-in page. This essential step ensures that Clearooms integrates seamlessly with your Microsoft Teams environment.
Grant Permissions: Grant the Clearooms app the necessary permissions to allow your users to access it within Microsoft Teams. This step is crucial for a smooth user experience.
Optional: Set a Teams Policy: For added convenience, you can set a Teams policy to auto-add Clearooms to all your users' Teams environments. This way, everyone can benefit from this powerful integration without any additional manual steps.For more detailed instructions and troubleshooting tips, please refer to our comprehensive Clearooms integration guide.
For more detailed instructions and troubleshooting tips, please refer to our comprehensive Clearooms integration guide.
Experience Greater Productivity
We are confident that the Clearooms integration with Microsoft Teams will empower you and your team to collaborate seamlessly, streamline your workflows, and achieve greater productivity. By eliminating the friction of managing workspace and meeting room bookings, you can focus on what truly matters – your work.
Need Assistance? We're Here to Help!
Should you have any questions, feedback, or require assistance with the Clearooms integration with Microsoft Teams, our dedicated support team is always ready to help. Don't hesitate to reach out to us. Your success is our priority, and we are committed to providing you with the best possible experience.
At Clearooms, we believe that a well-managed workspace is the foundation of a productive and efficient work environment. With our integration with Microsoft Teams, we're taking another step towards making workspace management simpler, smarter, and more convenient for you.