10 Feb 2023
Your easy step-by-step guide to booking meeting rooms through the Clearooms Portal
The Clearooms Portal is a simple, intuitive all-in-one desk and meeting room booking system.
By synchronising mobile and web bookings, the Clearooms Portal makes it easy to select dates, see the availability of meeting spaces, and book rooms instantly, wherever you are, whenever you need a room.
We've put together a brief, step-by-step guide to show you how straightforward it is to book meeting rooms with the Clearooms Portal.
Step 1:
Start by clicking on the 'Meeting Rooms' tab, found at the top right-hand side of the portal.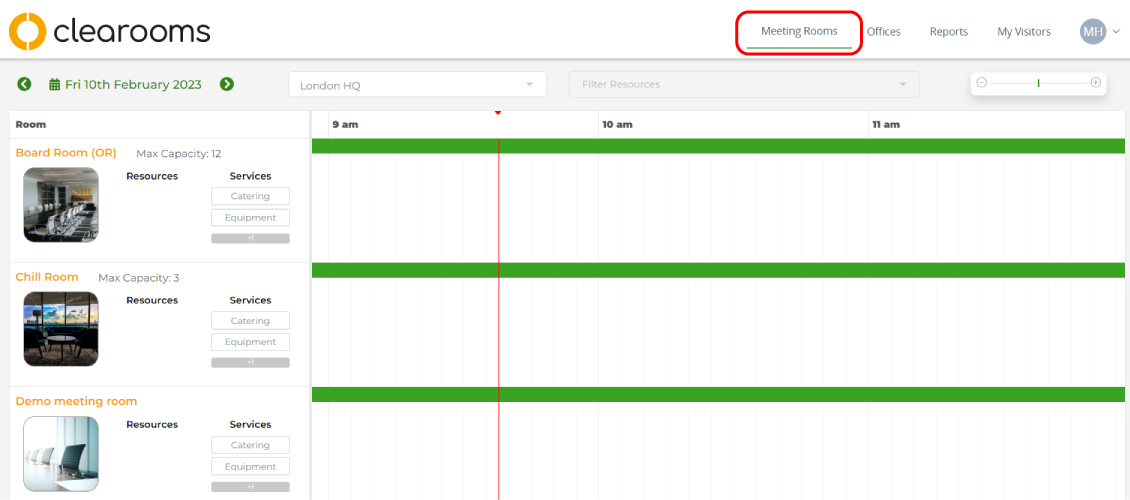 Step 2:
To the top, left-hand side of the screen, you'll see a green calendar icon, displaying today's date. Make sure it's set to the date you'd like a meeting room for.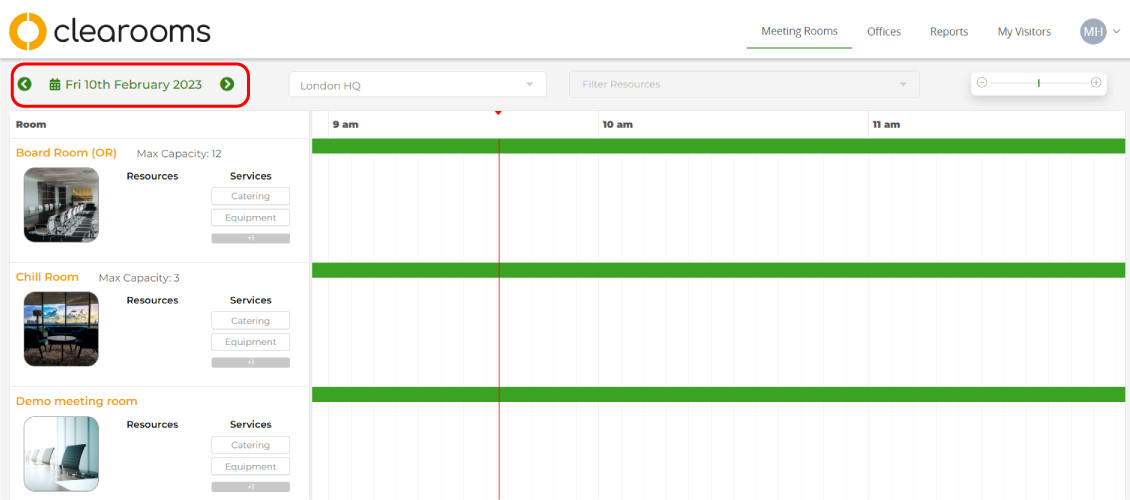 Step 3:
Using the drop-down box next to it, on the right, select the office location you'd like to book a room in.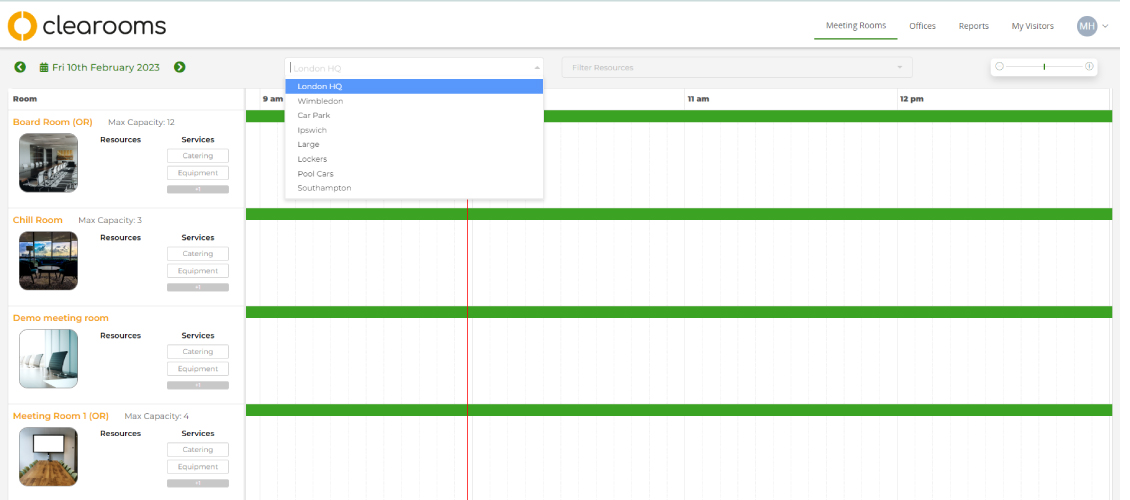 Step 4:
The 'Filter Resources' drop-down box lets you select resources and services needed. • Resources gives you options to add items such as a conference phone, HD projector, and white boards. • Services lets you include any catering, equipment, and room configurations that you might need.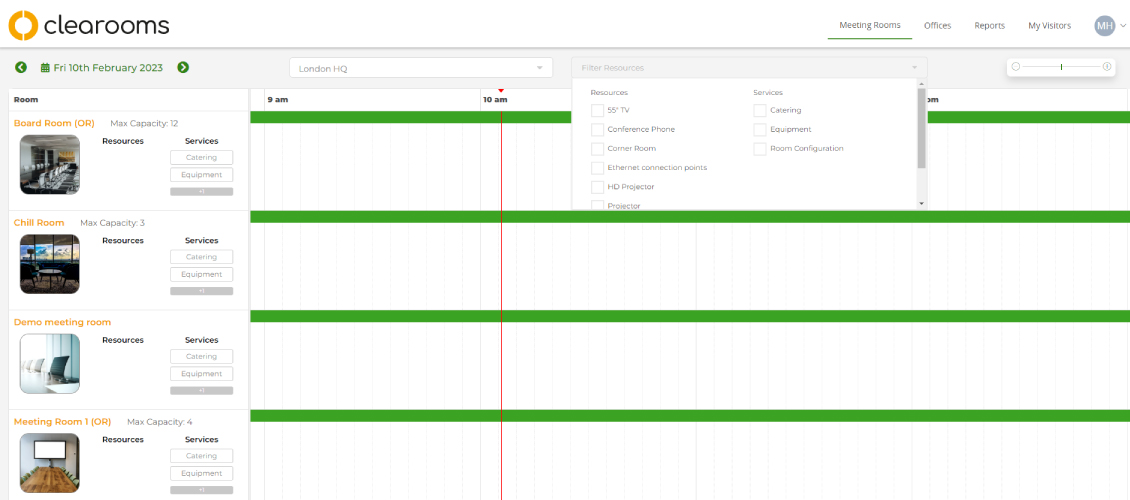 Step 5:
On the left-hand side you'll now be able to view a list of the rooms available (such as boardrooms, chill room etc), along with the maximum capacity and the resources for each.

Step 6:
Simply swipe across to find the time slot that you need, then scroll down to select a meeting room that fits your requirements.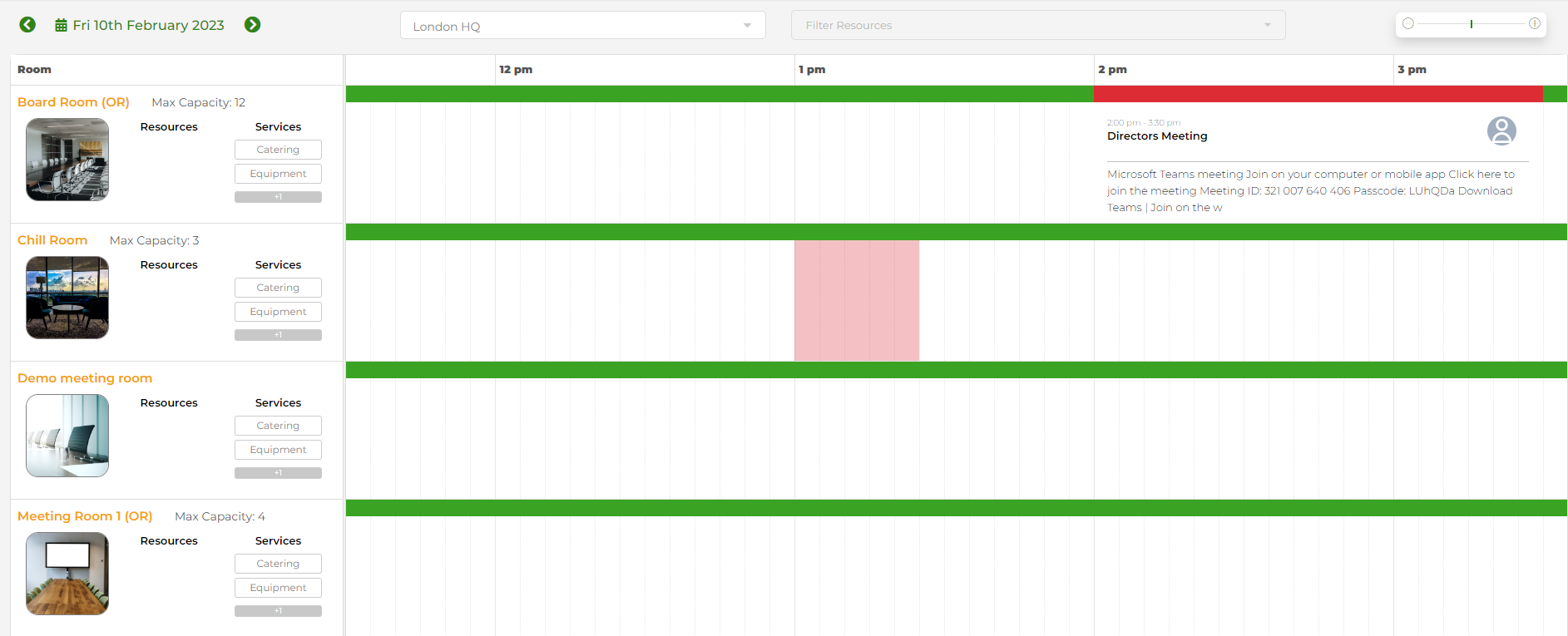 Step 7:
Once you've selected an available slot, a 'New Meeting' box will pop-up. This will list the resources and services you have already picked.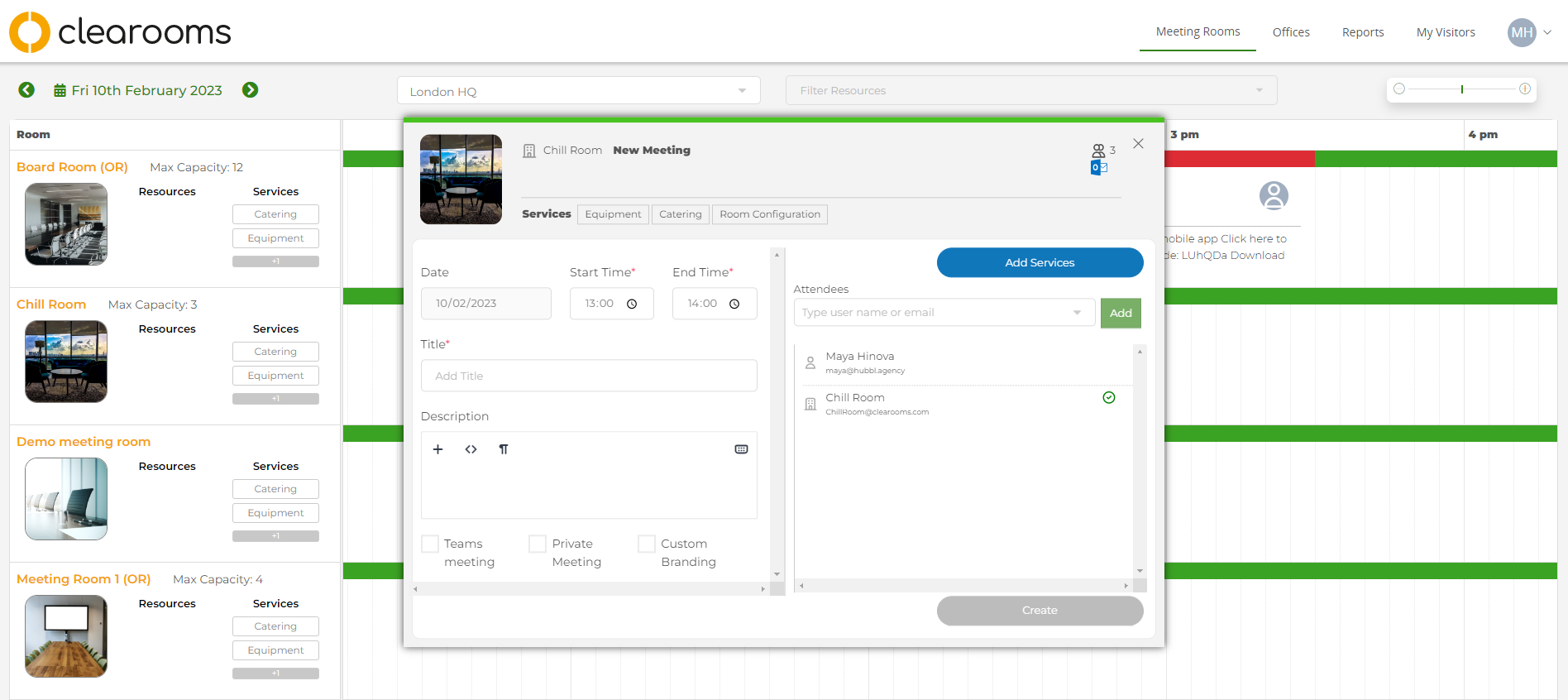 Step 8:
Here you'll also have the option to: • Select an exact start and end time • Add a title for your meeting • Write a description, letting everyone know what it's about • Specify if it's a teams or private meeting, or if it requires custom branding.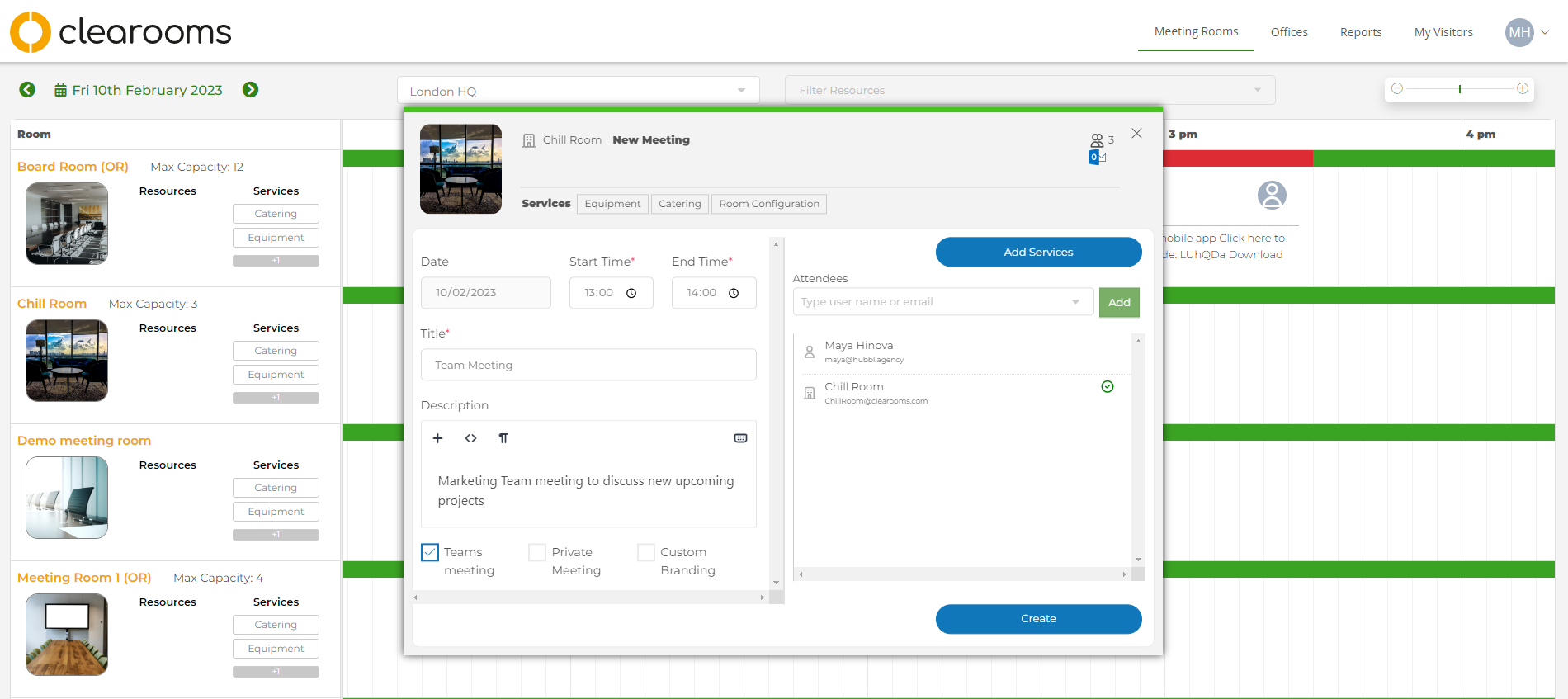 Step 9:
If you need any equipment or catering, or have specific set-up requirements, then you can also note these here. You can, for example, • Request room equipment, such as projectors or flip charts (3 hours' notice required) • Add catering requests (manager and administrator-level) from refreshments to pastries and sandwiches, so your delegates stay happy • Specify room configuration (24 hours' notice also needed) which details how you'd like the room set-up, such as a boardroom or U-shape layout, for example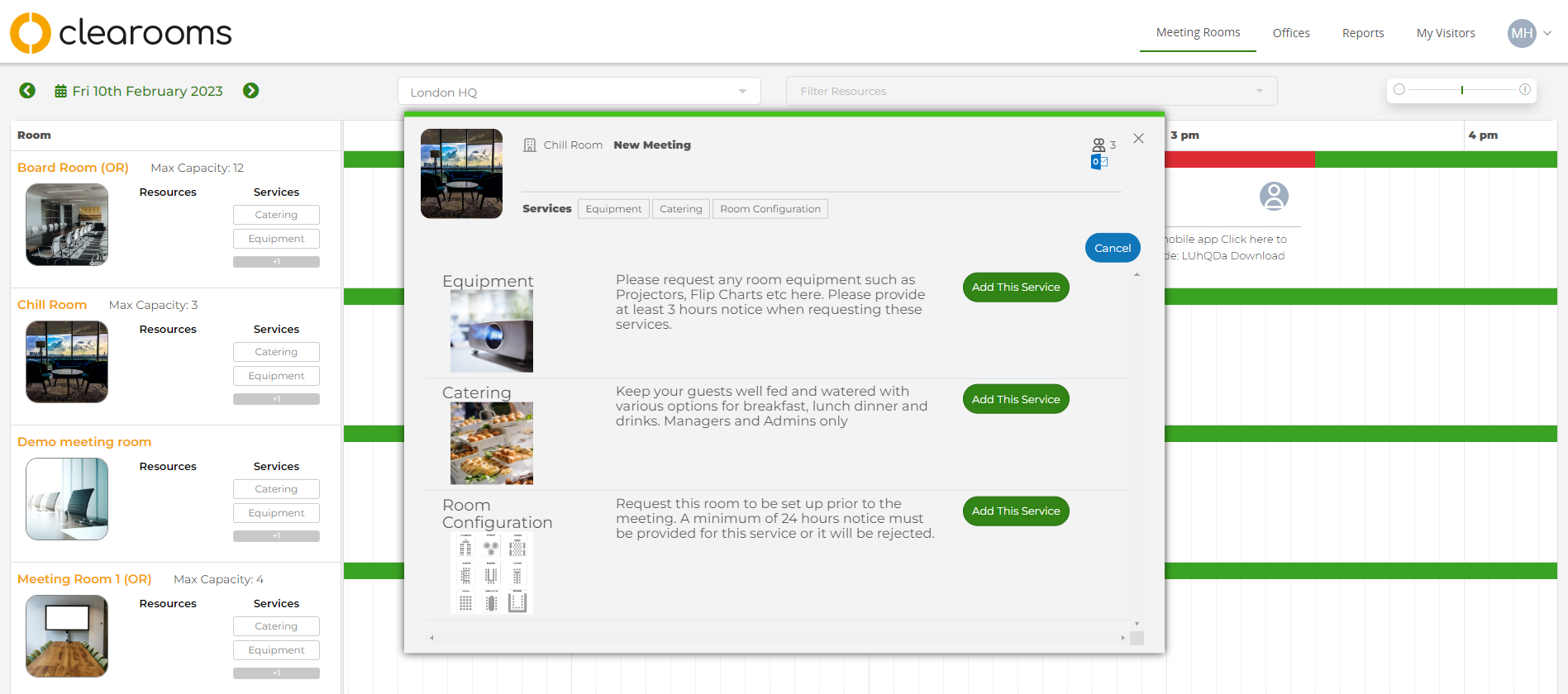 Step 10:
Finally, add attendees by entering their email addresses or usernames, then click 'Create'.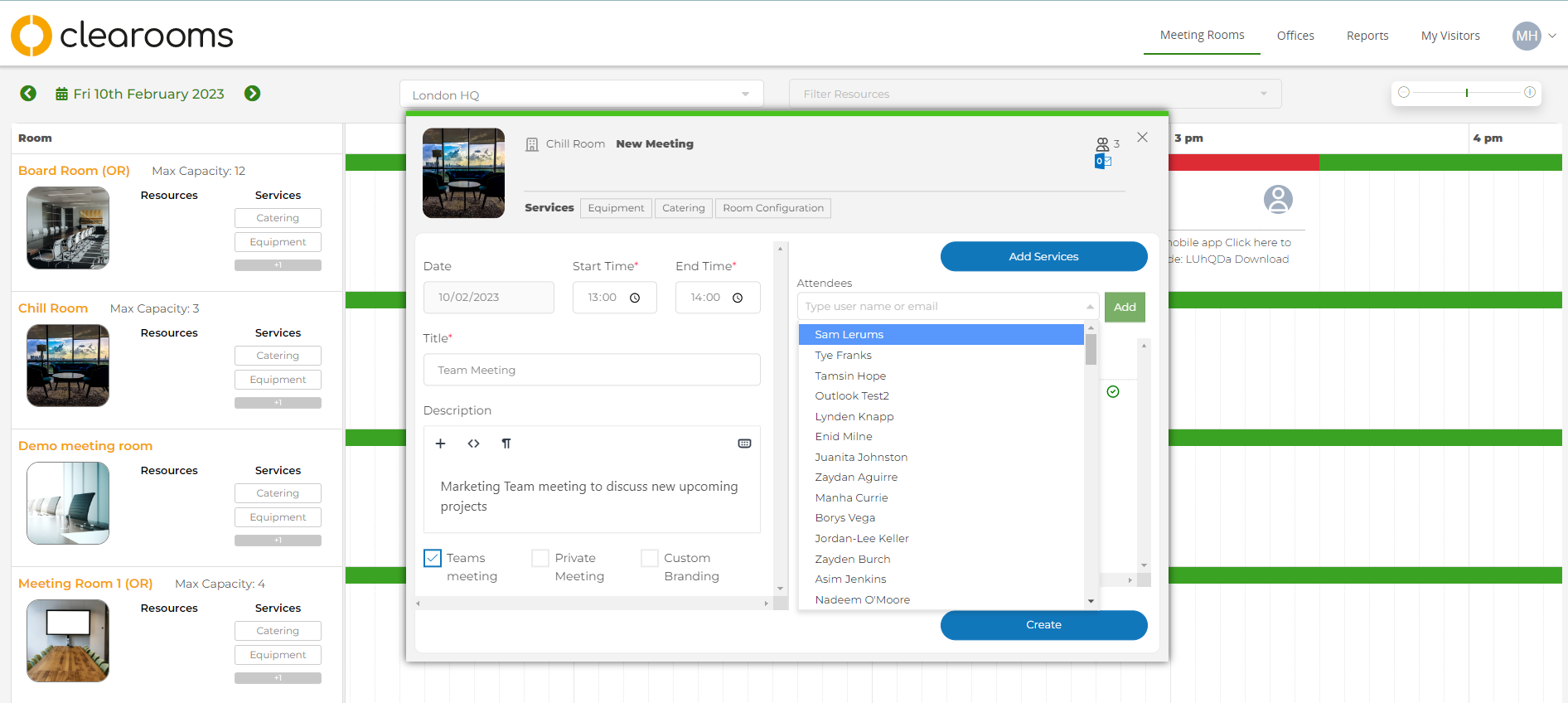 The Clearooms Room Booking App is a user-intuitive meeting room booking system that gives you everything you need, at your fingertips. Users can see real-time availability of rooms, and search, select and book rooms in an instant.
Want to find out more about Clearooms all-in-one desk and room booking software, and how it can enhance your company's productivity? Book a free 30-minute virtual demo of Clearooms, with one of our Account Managers.
Alternatively, sign up for your FREE no-obligation trial today. You can use all Clearooms's features for free, for a whole month. Furthermore, there's no up-front payment required, and you're under no obligation to subscribe afterwards.
Get in touch today and have a chat with us. Let us help you transform your hybrid workspace and make it work for you.