22 Nov 2022
Six must-have features to modernise your meeting room booking system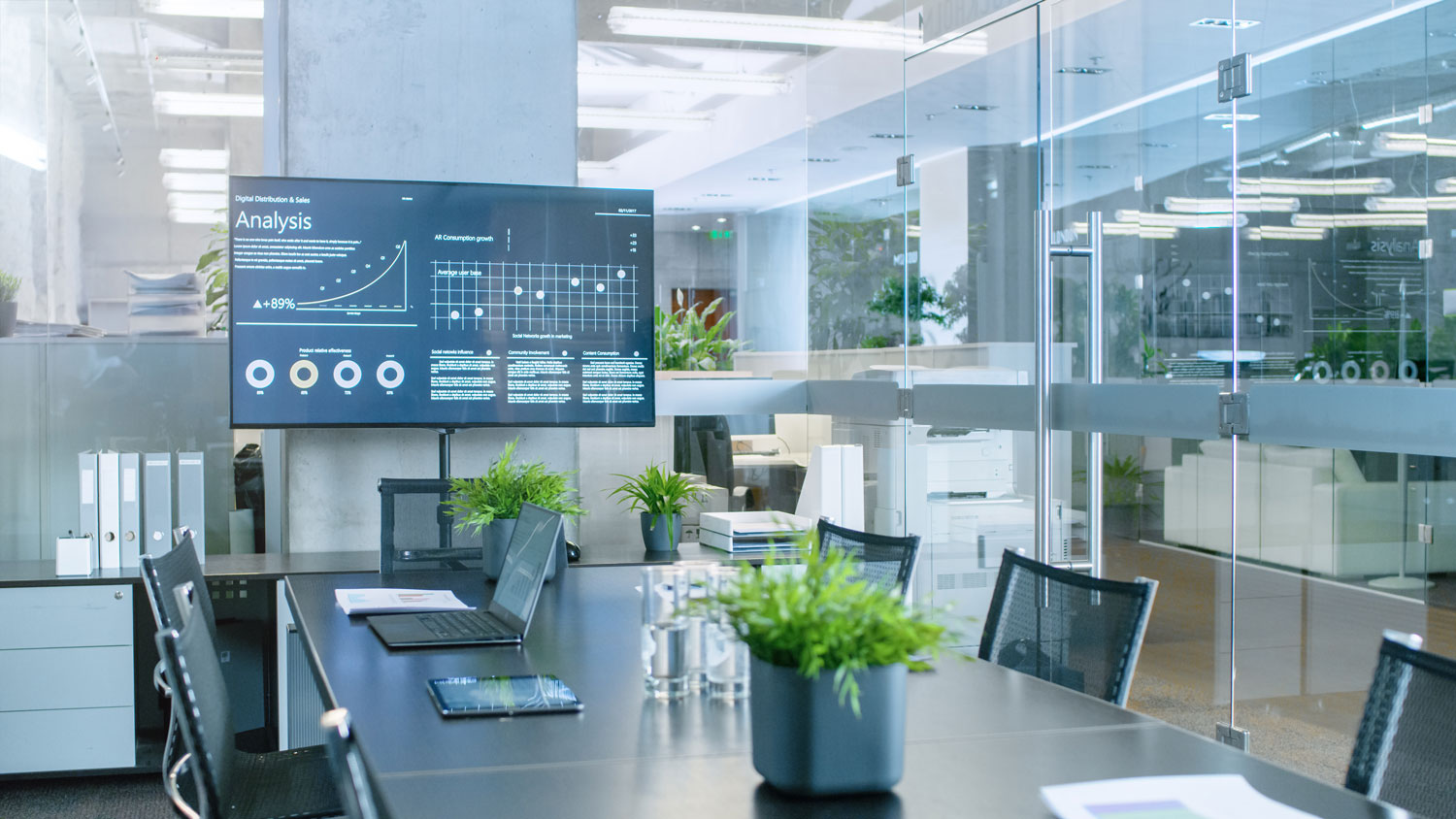 The pandemic bought about a seismic shift in the way we work, one of the most significant changes being the adoption of hybrid work.
Many companies have embraced hybrid working, adopting flexible working practices that enable people to balance working from home with office work.
To get the most out of hybrid working, you need an agile meeting room booking system that fully optimises your floor space and room resources and responds to real-time fluctuations in demand for desks and meeting rooms.
At Clearooms, we're here to make the task of room booking effortless. An intuitive booking system can really modernise the way you schedule room bookings, making the process of managing staff and rooms seamless.
Here's our run-down on the essential features of a meeting room booking system.
Easy onboarding
The way we work has evolved. With an ever-changing demand for meeting spaces, and an increase in conference room bookings, we need to be able to book rooms on the fly.
As a result, room booking systems need to be able to get users up and running quickly. The process of onboarding needs to be effortless.
We've made it really easy to set up hot desking with the Clearooms app. In just a few simple steps, you'll be ready to start managing the use of desks in your office.
Simply name your office, upload a floorplan, add your bookable desks, and then invite your employees.
Interactive floor plans
For room booking software to be efficient, users need to be able to see instant availability of rooms.
Clearooms's interactive floor plans, with a simple traffic light system, give viewers a real-time status of rooms and desks. See what's booked, and what's free, with just a few taps of the screen.
These floor plans can also be useful from an analytical point of view. Systems can help you analyse data on room and desk facility usage, as well as pull information on user behaviour.
By incorporating this data, you can encourage a more cost-effective use of your valuable meeting room spaces.
Over time, this will help you reduce your overhead costs and have a positive impact on your bottom line.
Complete customisation
Your meeting room booking software should be customisable, so people can find it easy to meet their specific room needs.
The Clearooms' app includes options for privacy and eco-friendly modes to be activated, along with the capability to block desks for permanently assigned employees.
But customisation can go further than this. With Clearooms, we've added branding functionality to help you make the app your own.
This includes the branding of individual meetings - to give delegates an impressive welcome - and labelling of departmental meetings which will make it clear who's in the meeting room, and when.
You can even add room names to each device, so visitors or new staff know exactly where they need to go.
Privacy mode lets you to mark certain meetings as private, and have limited information on display.
Seamless digital integration
Integrating your meeting room manager software digitally, through a mobile app, makes it easy for people to check in and book desks when they're out and about.
You can make your meeting room booking system secure by adopting a single sign on SSO.
Cross-platform synchronicity with Google calendar and Office 365/Outlook calendar can streamline the start-to-finish process of booking rooms.
Clearooms is also device agnostic. By working across multiple platforms, including GSuite and Microsoft products, there's no need to purchase new devices.
Contactless booking
In this post-covid era, a no -touch meeting room booking system gives users peace of mind.
People can use Clearooms' contactless app to find and book meeting rooms, eliminating the need to touch public computer screens or sign-in sheets.
Phones can be used to confirm, enter, and end meetings remotely – all by scanning meeting codes.
Furthermore, you can also factor in customisable social distancing rules, and an optional health questionnaire for delegates, prior to booking.
Handy performance analytics
A proficient room booking system will not only give you basic room booking functionalities, but offer enhanced analytical features, including the ability to run reports on performance and demand.
As a result, you'll be able to get valuable data-driven insights into popular time zones and analyse ebbs and flows in demand.
With Clearooms' app, you can also run detailed custom reports into how your space is used, which you can use to create room layouts that are not only user-friendly, but fully-optimize your floor space.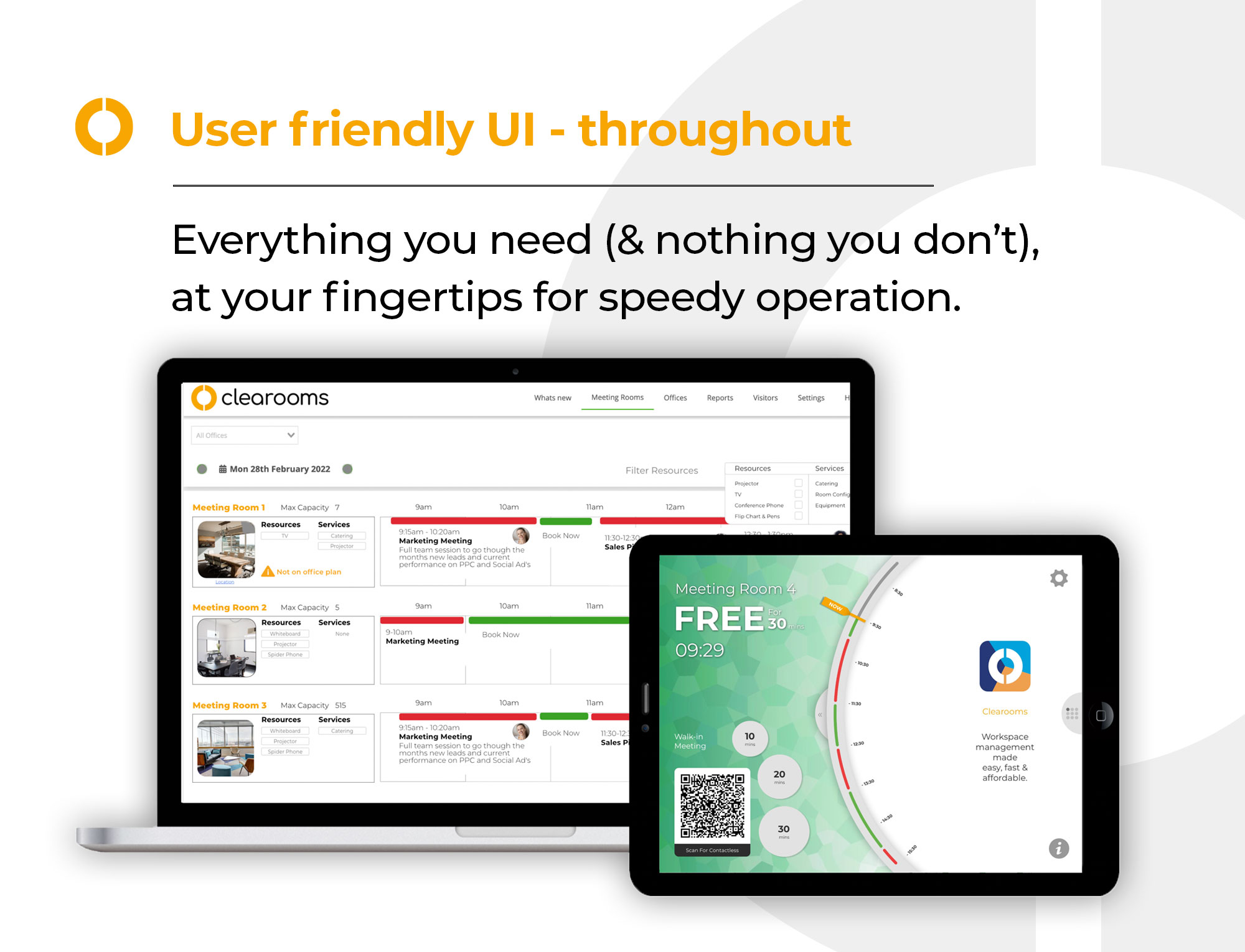 Closing thought
If your meeting room booking system has these essential elements, it can not only bolster employee productivity, but will help reduce waste by making efficient use of resources and generate a positive impact to your bottom line.
Want to find out more about Clearooms all-in-one desk and room booking system, and how it can enhance your company's productivity?
Sign up for a FREE no-obligation trial today. You can use all of Clearooms's features for free, for one month. Furthermore, there's no up-front payment required, and you're under no obligation to subscribe afterwards.