25 Jan 2023
Top tips to innovate your meeting rooms in 2023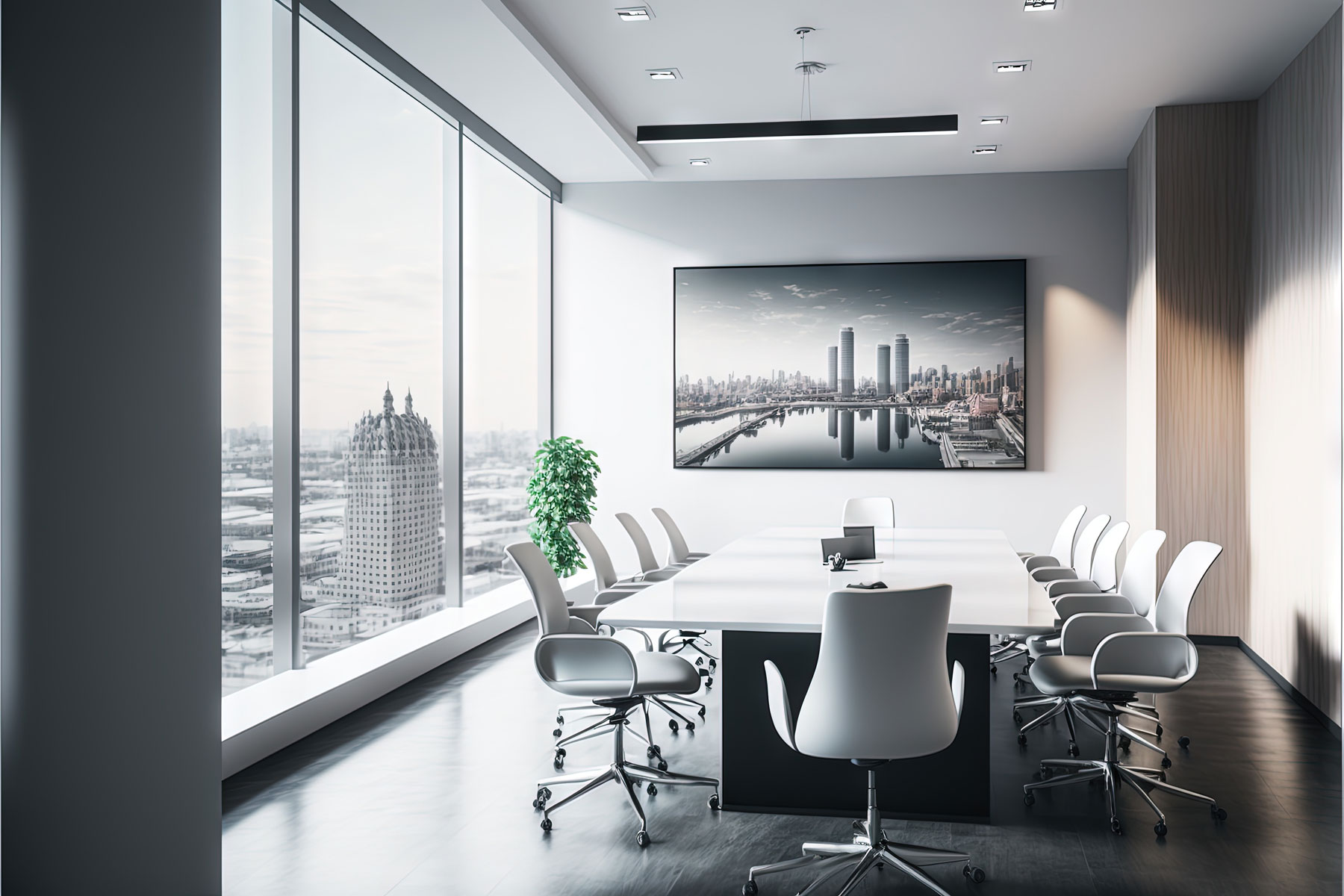 Today's meeting spaces have transcended the traditional, fixed boardroom layouts. Gone are the days of long tables with overhead projectors as we move into an era of multifunctional spaces that cater for every type of meeting or get together.
The most effective meeting rooms are those that fully optimise layouts and create an engaging space that inspires collaboration, whilst integrating the latest technology – connecting out-of-office team members.
We've pulled together some key ideas to help you improve the usability of your meeting rooms, ensure they're working for you and, ultimately, enhance the meeting experience for your employees and delegates.
Connect People across Multiple Sites
In the post-covid workspace, meeting spaces need to cater for both in-office team members and those working off-site, remotely.
Studies have shown that when remote workers aren't able to connect easily, in real-time, work suffers.
Cushman and Wakefield's insightful Experience per Square Foot™ survey found that 56% of remote workers feel less connected to their colleagues. Additionally, more than 60% feel that their learning and mentoring suffers with remote work.
It's clear that companies need to be doing everything they can to build the bridge between remote and on-site employees – and foster deeper connections between all staff.
That means making your spaces versatile - accommodating in-person meetings, virtual meetings, and hybrid.
Bring People Together with Collaborative Spaces
You can improve the versatility of your rooms by ditching traditional layouts for open spaces that encourage flow of movement and conversation, inspiring collaboration.
Go beyond the typical boardroom layouts to create rooms that are not only flexible, but that will encourage social interaction.
It's about moving from rooms as a 'container' to spaces as 'enabler' – helping people get together and encouraging autonomous flow.
Embrace Digital Technologies
You need to be incorporating digital technology at every stage when designing your office space, which begins with identifying everyone's requirements.
Fully accessible meeting rooms need solid wi-fi and videoconferencing as basic features, but you can go beyond this by considering additional technologies to enhance the meeting.
Dry-erase whiteboards on the wall encourage brainstorming – giving people a physical outlet to scribble and share their ideas.
Touchscreen whiteboards and smart boards also help bring ideas to life. Results can be saved and shared digitally with meeting attendees who are otherwise not on-site.
Integrate digital, collaborative tools such as Slack and Microsoft Teams which can facilitate project management and help bring people and ideas together.
When planning the layout of your meeting room spaces, you should think about the positioning of cameras and furniture. Cameras need to be facing away from any windows, and you'll want to avoid glare spots depending on how the sun reaches the room.
The right technology can make meetings more dynamic – and go a long way to inspiring creativity.
Cultivate Creativity and Productivity
Meeting rooms need to be fully flexible and cater to the different styles of meetings, but collaborative work means you also need rooms that cultivate creative output.
From large spaces to break-out rooms, huddle rooms, to smaller phone booths or cosy set ups, your meeting rooms need to reflect the style of get together taking place.
Consider the aesthetics of your rooms. The energy of the room is shaped by many factors, including lighting, flooring, and furniture.
A bright, airy space can help people focus whilst soft furnishings and acoustics panelling can help banish the echo – which is particularly helpful for any meetings using AV technology.
Consider how the room's visual elements fits in with your brand too.
According to workplace advisor Kursty Groves, bringing in nature, aside from its calming presence, is one of the best ways to let creativity bloom. You can inspire the imagination by introducing plants, adding a pop of colour, and making sure there's plenty of light throughout the room.
With the Clearooms meeting room booking app, you can also track how your spaces are actually being used with usage analytics. You'll be in a position to analyse usage trends and monitor the flow of demand – giving you insights into to how to maximise your office space.
Closing thought
Whilst these innovative ideas for collaboration can go a long way to augment your meeting room spaces, they are of little value if your employees don't have access to a fully integrated meeting room booking software.
Your employees need to be able to book rooms, wherever they are, whenever they need one.
The Clearooms Room Booking App is a user-intuitive meeting room booking system that gives you everything you need, at your fingertips. Users can see real-time availability of rooms, and have the ability to search, select and book rooms in an instant.
Want to find out more about Clearooms all-in-one desk and room booking software, and how it can enhance your company's productivity?
Sign up for a FREE no-obligation trial today. You can use all of Clearooms's features for free, for one month. Furthermore, there's no up-front payment required, and you're under no obligation to subscribe afterwards.
Let's revolutionise your conference room booking system.