17 May 2021
What is a Hybrid Working Model? 10 Tips for Making it Work for Your Business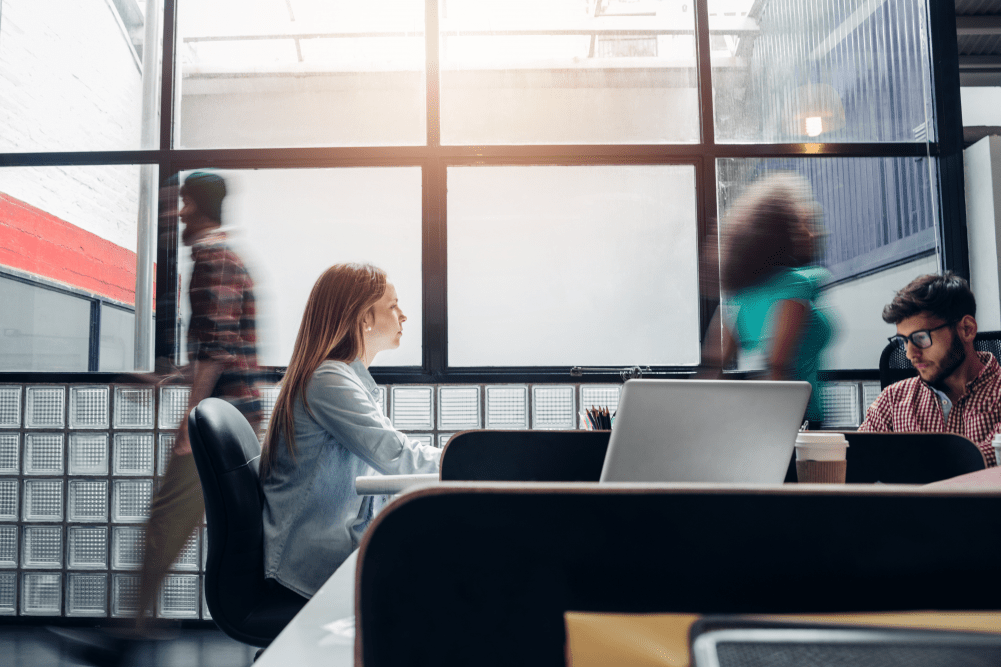 As companies begin to return to office spaces, a new way of working is being introduced by many companies: the hybrid working model. Put simply, this new way of working combines both in-office and remote working opportunities. While, on the face of it, this model appears to be the best way of working to maximise productivity, flexibility and work/life balance, it is not without its own set of challenges.
When the whole workforce is working in the same space, either from home or in an office, it is easier to align processes and schedules, but what if there's a mix of in-office and remote workers? Maintaining strong communication and collaboration, while minimising frustrations becomes more difficult. We've taken a look at the different types of hybrid working models and outlined some tips to ensure a smooth transition to this new way of working.
Remote-first
The remote-first model of hybrid working makes working remotely the primary option for employees. This differs from a fully remote company as typically there will still be a physical office for employees to use when needed. This is a great option for many digital and office based companies, where work productivity is increased through home working but collaborative tasks may need to be carried out in the office.
Switching to a remote-first model is also great for businesses looking to downsize their office space in order to save money on rent, either by hiring a smaller space or using flexible shared office spaces.
One well known example of a brand that has moved to remote-first working is Quora. In their statement, they say "Remote work will be the primary orientation of our company -- the default for all choices" while still retaining a physical co-working space "for employees who value it".
Office-first
Some businesses have struggled more with the move to remote working, and while the pandemic has shown that there is value in allowing employees the freedom to work from home in times of need, the overall needs of the company require their offices full. In these instances an office-first hybrid working model will likely fit their needs more than a fully hybrid or remote-first option.
There are different ways this strategy can be implemented. For example, it may be that certain teams can continue to work from home while others are required to be in the office. A typical approach being that the leadership and management teams work from the office while employees are free to choose their working location.
Fully Hybrid / Split Working
A fully hybrid way of working puts the employees in the driving seat. There may be key dates that require in-person communications, but aside from this the team is able to choose which method of working that suits them on any given day. This option differs from the remote-first approach, whereby offices are used for collaborative working, instead this model blends in-person collaboration and solo work in an office setting depending on the needs of the staff.
How you implement this hybrid approach is down to the needs of the company. For example, it may be that you opt for set office days and set remote working days. Alternatively, a more autonomous approach may be a better option. In these instances, it's a good idea to introduce to employees, an easy to use hot desk booking system to ensure everyone is able to book the space they need, keep track of working habits of your colleagues, and ultimately have the reassurance they will be safe when going into the office.
Whichever model you decide to use, there are some key elements to consider to ensure that hybrid working doesn't disrupt the working day or reduce productivity. We've outlined the key considerations with this new way of working to ensure a smooth transition.
1. Establish contact time
Remote working doesn't only mean working from home, it allows people more flexibility to choose their own working hours, and as such there may be a lot of emails flying around into the evenings when others are no longer working. This can cause pressure amongst those working regular hours, who may receive communications outside of office hours and feel an expectation to reply.
One way to mitigate this issue is to implement strict contact rules. No emails should be sent outside of work hours except in dire circumstances. It's easy to say "I didn't expect them to read it when I sent it", but we need to remember the pressure the presence of that email puts on the recipient. Many email providers have the option to schedule the send of your emails, using this feature can help alleviate any undue stress.
2. Create a structure
Flexibility can easily slide into disorganisation. Marry flexibility with structure. For instance, if an employee wants to work from home two days a week, agree on which days those will be. Flexibility means those days can be shifted according to business or personal needs, but that structure means that everyone knows when they'll see that person in the office and when they'll need to contact them remotely. It also helps to draw a clearer work-life balance.
3. Reassess meetings
Meetings between in office and remote staff can get complicated if there's a team in the office and a few remote workers. It's easy for remote workers to feel they have to take a back seat, finding it more difficult to interject themselves into the conversation.
In order to guarantee successful, productive meetings, set up a robust meeting process.
Ask yourself if a meeting is really needed. Do you need to lead a discussion, or do you want to tell people about something? The former is a meeting. The latter is an email.
Create an agenda; this is not a one-liner, but a statement of the problem the meeting will address and the desired outcome. For instance, "This meeting will address our need for a desk management tool. We will be examining the benefits of the Clearooms platform suggested by Alex, and we will end the meeting with a clear action plan for integrating the tool into our workflow."
Tell each person why you're inviting them. You might find that putting it into words reveals that someone doesn't need to attend the whole meeting, they just need to know the outcome. Or perhaps they only need to attend for part of it. Either way, tailoring their involvement will save time and increase productivity.
Finally, consider how meetings will work with two different teams: does each person in the office login separately to the video call or do you project the remote staff to a singular screen? There's no right or wrong way of approaching this, it's best to test which option works best for your team.
4. Make flexible hybrid working easy to manage
Resist the urge to create multiple spreadsheets to manage in-office and remote workers. It is important that everyone is able to have sight of where their colleagues are working on any given day, but creating a hard to manage system will likely cause more frustrations than it solves.
Using a room or desk booking system, such as Clearooms, makes booking time in the office simple. Not only will everyone be able to easily book their desk for the day, they can also see the availability of meeting spaces and collaborative areas, reducing meeting interrupts and mishaps.
5. Consider the isolation of remote work
We spend a third of our lives at work. We spend a third of our lives asleep. That means our jobs account for half of our time spent with people, representing a huge portion of our social interaction. The absence of this interaction can have a severe toll on people's mental health.
Consider especially the younger members of your team. While older hands are likely to be settled in a long-term career with a family at home, younger workers are more likely to be single and less settled in their career. This leaves them more vulnerable to the impact of isolation.
Consider how to integrate your remote workers into the fold of your company culture while you have staff in the offices too. If you're used to hosting social events and after work get togethers, it's important that there is also a way for those working from home to get involved. During the pandemic many companies flipped down time on its head with virtual coffee breaks, video call quizzes and happy hours. As workplaces become more fluid, it's important that these experiences do not disappear for remote staff.
6. Beware the silo
We know that one of the key issues when the world switched over to remote working was a greater amount of siloed working -- with cross department conversations reduced. Having a combination of remote workers with in-office staff can easily exacerbate this problem further.
With offices opening up again there's the real possibility that these silos will persist. In order to reduce this, we recommend encouraging intermingling. While this has the potential to be an unnerving subject in a post-COVID world, this will help remove those silos in your business if handled safely.
For instance, if staff are booking desks for when they come into the office, encourage them to book one away from the rest of their team. Rather than divide your office space by team, create zones instead. This reduces our natural tendency to sit "where our team sits", and instead encourages workers to sit with others, even if they're not on the same team.
7. Make sure your team feel safe in the office
While the fear the pandemic brought has lessened with the introduction of mass testing and vaccines, COVID has made us much more aware of what we're touching, how we're interacting with people and the importance of our own physical space. Therefore, as we make the move back into the office, there is still likely to be people with reservations about the safety of the office environment.
Ensure everyone feels comfortable coming into the office, especially if you're planning an office-first approach or hybrid working. For example, having a portal showing which desks will be occupied, set limits to desk bookings and helping you to maintain social distancing will help put everyone's mind at rest. In addition, touchless-technology can avoid any concerns with having to touch shared devices. Many employers have also set strict standards and cleaning processes for desk sharing so they are thoroughly cleaned and sanitised at end of use for the next user.
8. Ensure that all spaces support video conferencing
This might sound simple, but making sure that your meeting spaces are kitted out for video calls is going to be vital. While, of course, you can take your laptop into a shared space, arranging this so that virtual staff are able to feel integrated will be a struggle. It's much better to set up a webcam that covers the meeting space rather than twisting and turning a laptop to keep the speaker in view.
9. Provide a variety of meeting spaces
You might have been used to bundling into the same meeting space in pre-pandemic times, but with the new way of working creating multiple spaces where people are able to feel comfortable and adequately spaced out will be vital. This doesn't mean you have to make the move to a new office, however. By strategically rearranging the space you have to create 'meeting zones' you can easily allow for multiple collaborative working areas. This can be achieved with clever furniture placement, for example bookcases, plants and even partition screens can be used to create a space and contain noise.
10. Promote fairness across your remote and in-office teams
Working remotely isn't a completely new phenomenon, and one thing that needs to be addressed is the disparity between home workers and office staff. Overall, statistics from the Office of National Statistics show that employees who work mainly from home were less than half as likely to be promoted, and 38% less likely to have received a bonus, when compared to their office-going counterparts.
In Quora's statement, they address this issue directly:
In most companies, it is a significant career advantage to work from the headquarters rather than to work remotely. People in positions of power have a tendency to bias toward giving out opportunities to those whom they are familiar with. Employees in headquarters often don't keep remote workers front of mind. None of this is malicious, but these subtle factors add up to a playing field that is significantly biased against remote workers.
Maintaining strong relationships and high productivity in a world of hybrid working can be difficult. Suddenly there's a whole new dimension to your working environment, and creating something that works for everyone isn't an easy challenge. Because of this, research by YouGov for HR tech firm Applaud found more than a third (35%) of firms are planning to develop an employee engagement role to support staff. This is distinct from a traditional HR position, and focuses on staff engagement and the remote experience.
Whatever your plans are for opening your office, one thing's for sure -- the working week has changed forever. If you're planning on moving to a hybrid working model, contact us to find out how Clearooms can help make the transition easier.