16 Mar 2023
Best practices: How to get the most out of in-person meetings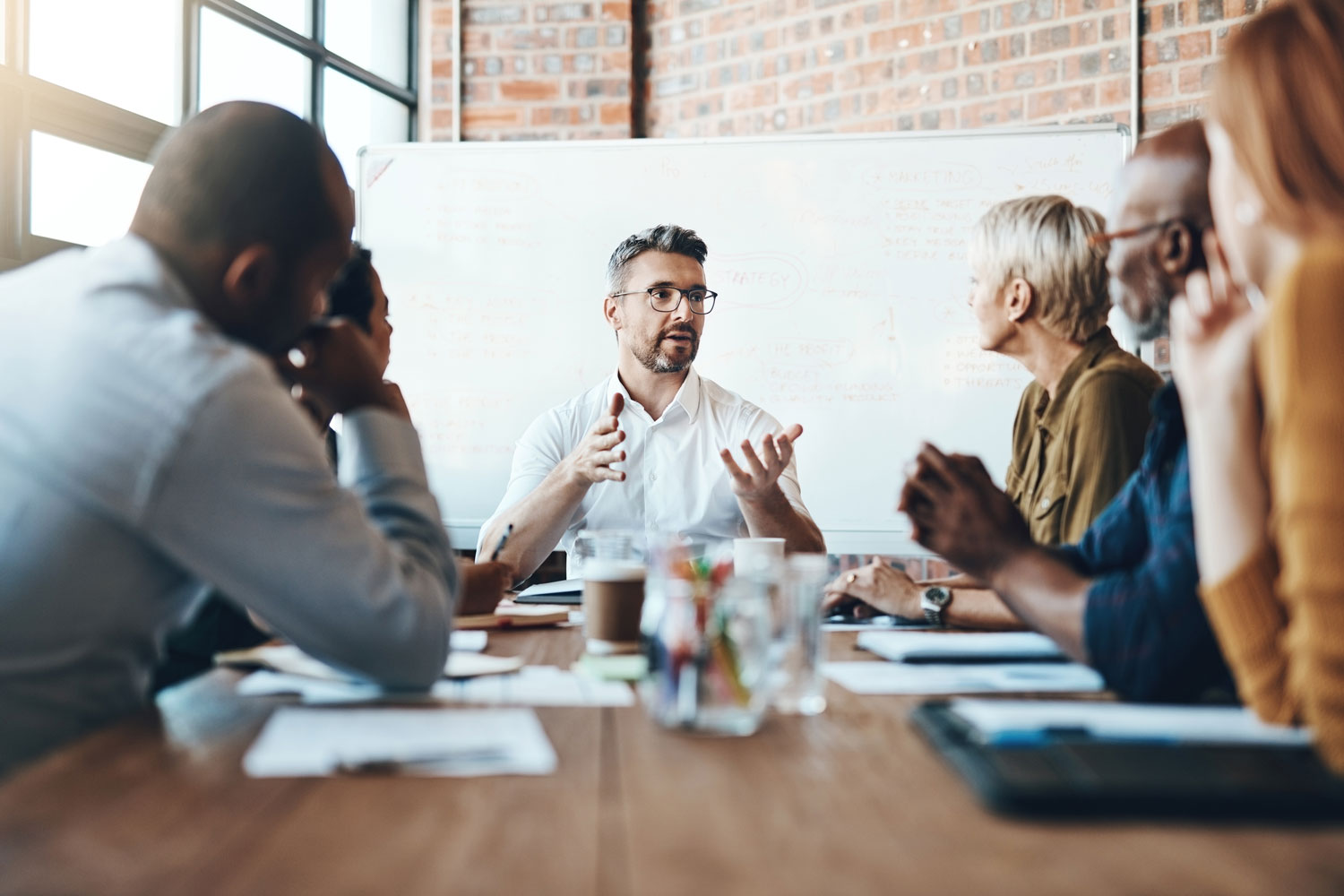 Covid-19 altered the way we work, forever. Whilst it gave us a new sense of autonomy, with the adoption of flexible working practices and, for some, the freedom of homeworking, it also brought us remote working isolation and zoom fatigue.
In this article we'll look at some of the key benefits of getting people together with in-person meetings and identify tactics that will help improve the experience for everyone.
The value of in-person meetings
The pandemic clearly reminds us of the intrinsic benefits of relationship building that in-person meetings offer. The advantages of meeting with colleagues, in real-time, include:
Fluid conversations
Increased engagement
Clearer communication
Deeper connections
A more collaborative environment
For team leaders and managers, holding an in-person meeting with colleagues' signals that you appreciate their time, presence, and contribution.
This is backed up by a study by Forbes. Analysing the importance of face-to-face meetings, Forbes found that 84% of executives prefer in-person meetings (as opposed to technology-enabled meetings) – mainly because they enable people to build stronger and more meaningful business relationships.
Improving the meeting experience for everyone
But now, more than ever, people are pushed for time. In-person meetings can be time-consuming and draining if they don't have value for everyone involved.
So how can you get the most out of your in-person meetings? Here's a few ideas to help you run a more effective meeting:
What's the purpose of your meeting?
Everyone should be on the same page. They should know why they're gathering, and what needs to be accomplished from the meeting.
Be clear about what the meeting is for. Do you want to discuss an action plan? Brainstorm ideas? Or are you simply wanting to connect informally as a team to boost morale? Letting your team know beforehand can help them prepare and get in the right frame of mind.
Outline your objectives
Setting concrete objectives can help you stick to the topic and steer a productive meeting. What's your desired outcome? This will shape your objectives.
Decide early on who needs to attend – identify key stakeholders or people with a vested interest in the topic. People lead busy schedules so be sure their attendance is needed, and beneficial.
Do you need an agenda?
Time is precious. Creating an agenda can help you stay on track and ensure you cover the key points.
A printed agenda lets your delegates know exactly where the meeting is going, and what's going to be discussed. Consider printing copies of any presentations, with space to make notes.
What meeting style do you want?
Think about the tone of your meeting as this will influence the type of meeting room you need. A traditional boardroom layout sets the tone for a formal meeting whereas if you're wanting to get together with colleagues for a creative brainstorming session, you might prefer a smaller 'huddle' room. This can make people feel more relaxed, and encourages an organic flow of ideas.
Book your room and assign roles
Once you have determined the purpose of your meeting, you'll need to book your room and assign roles.
Decide who is chairing the meeting – they'll need to be someone who is confident in steering the topics and encouraging everyone's engagement.
Do you need someone to take minutes of the meeting? If so, delegate it. Meeting notes, with delegated actions, can be emailed to everyone after the meeting. Summarising the discussion and cementing next actions can help refresh people's memories.
Time for a break
Weary delegates don't make for a productive meeting. If your meeting is longer than an hour, schedule a quick five-minute refreshment break halfway.
On the topic of fatigue, you could think about mixing up the style of meeting to avoid an hour-long listening session. Open up the dialogue with a brainstorming session, in pairs, or hold break-out sessions for group discussion.
Catering for happy delegates
Keep everyone mentally alert with water, teas, and coffees, and perhaps a fruit platter. Having a longer meeting? Don't forget to consider breakfast or lunch catering. Happy delegates make for a happy meeting.
Concluding your meeting
You should leave enough time to conclude the meeting. This can be a quick two-minute summary of the discussion, any action points, and of course thanking people for attending the meeting. If needed, agree to schedule a follow-up meeting.
Should your meeting end early one click on the Clearooms display tablet can free up the meeting room for others to book.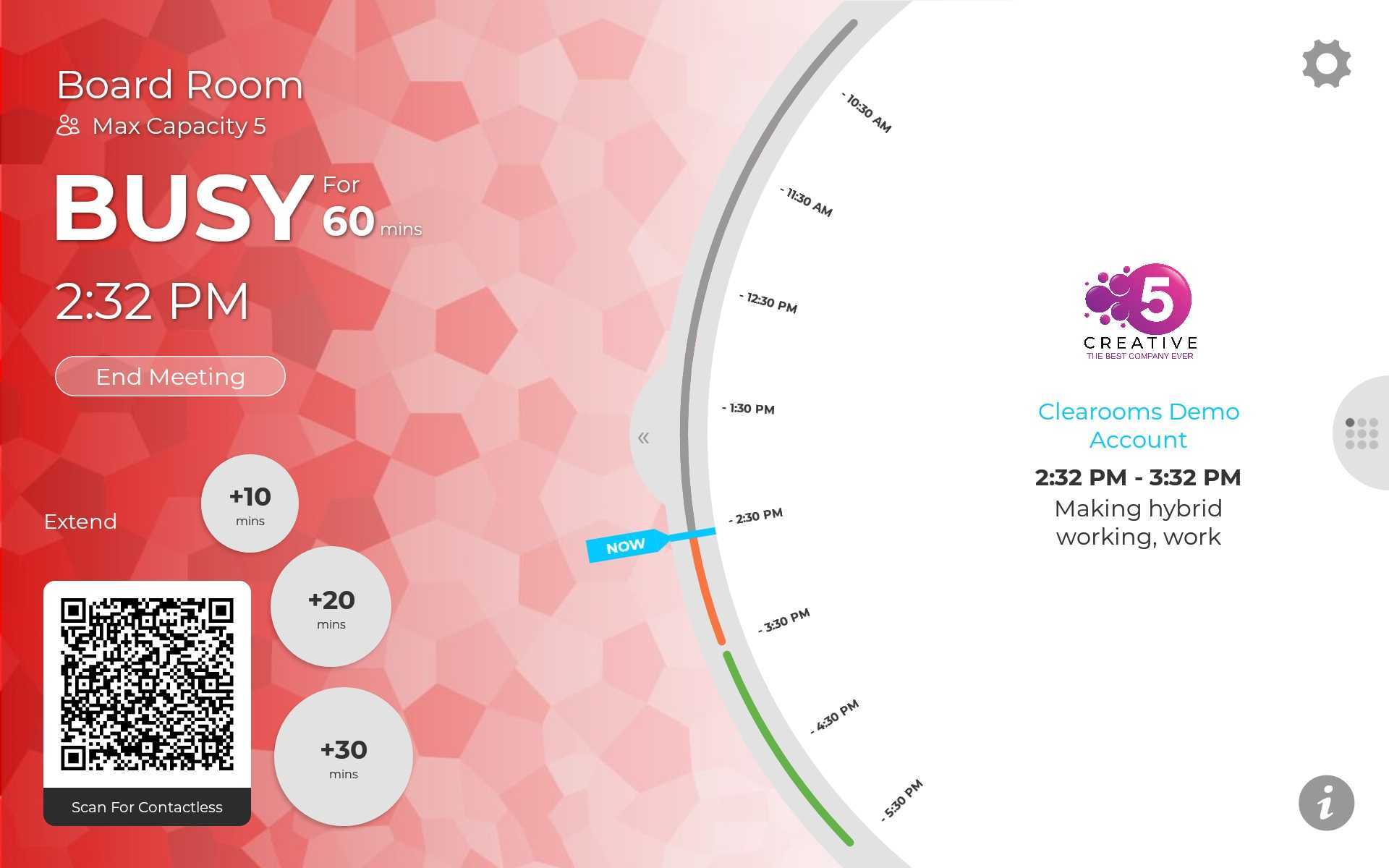 Get together with the Clearooms' Room Booking System
Want to get everyone together in one space? Clearooms' fully integrated meeting room booking software makes this effortless.
Clearooms is a user-intuitive meeting room booking system that gives you everything you need, at your fingertips. Users can see real-time availability of rooms across your buildings, and search, select and book rooms in an instant.
Got team members working across various locations? No problem. The software lets them book rooms, wherever they are, whenever they need one.
Clearooms gives you a completely customisable meeting
When booking a meeting with Clearooms, it's really easy to add resources, such as a conference phone, HD projector, and white boards, and include any catering, equipment, and room configurations requests.
With the Clearooms you can also stipulate how you'd like the room set up, such as a board room or U-Shape layout, for example, and request custom branding.
Sign up for a free, no-obligation trial today
Want to find out more about Clearooms all-in-one desk and room booking software, and how it can enhance your company's productivity?
Sign up for a FREE no-obligation trial today. You can use all of Clearooms's features for free, for one month. Furthermore, there's no up-front payment required, and you're under no obligation to subscribe afterwards.
Let's simplify your conference room booking system and make it easy for you and your colleagues to connect in real-time.