17 Apr 2023
Flexible, Remote or Agile working: what's the difference?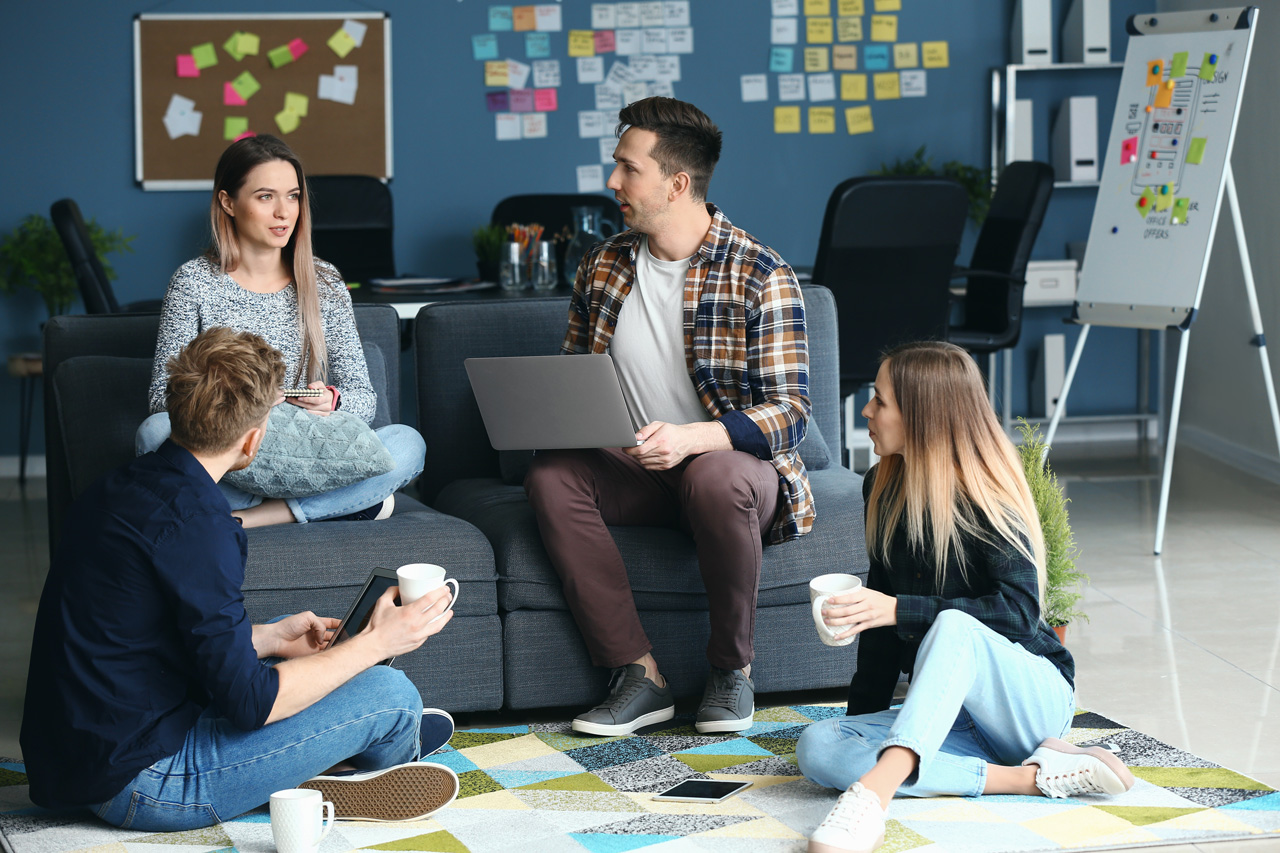 Our previous blogs have explored the evolution of the office space since Covid-19, and how working life will progress as the traditional 9-5pm pattern diminishes. Today, we'll be examining the differences between remote, flexible, and agile working, and looking at the key features of an agile workspace – along with the intrinsic benefits that agile working brings.
What is remote working?
Remote working is doing your job from any location other than your employer's office. This could be from home or any space that enables you to do your normal job, such as a library or a coffee shop. It's usually a fixed arrangement between a company and employee and comes with clear advantages and drawbacks.
What are the advantages of remote working?
For companies, enabling staff to work from home on a permanent basis has a huge impact on the bottom line. Reduced desks and overheard costs mean reduced operating costs.
The benefits are not just for employers. Staff can gain savings in both the costs of commuting, and the time spent - which leads to a better work-life balance. Many people who do remote working find that they end up adopting a less stressful, healthier lifestyle which can, in turn increase their overall work satisfaction.
Remote working can also positively impact family life as people find they are available for school drop-offs and pick-ups, and have more time to fit in necessary appointments and errands.
Remote working: the drawbacks
Remote working doesn't suit everyone, however. For people who enjoy the social interaction and camaraderie of office life, working remotely can make them feel isolated, and less socially connected.
They might find it harder to collaborate with teams, and, whilst communication tools such as Zoom and Google Teams can bring teams together digitally, the need to be online all the time can contribute to technology fatigue.
A lack of physical connection can trigger a breakdown in communication or, for some, generate feelings of apathy, which can have a detrimental impact on the team.
At home, remote working isn't always plain sailing. Employees might struggle to disconnect from the workday – particularly if they don't have a designated desk and must use the kitchen table, for example. For others, it can be challenging to navigate the distractions of home life whilst staying productive.
What is flexible working?
Flexible working is, put simply, any working patten that has been adapted to suit the employee's needs.
By enabling your staff to make alternative arrangements or schedules to the traditional working day/week, you can empower them to manage their work-life balance.
The benefits of flexible working
Companies find that flexible work policies are not only a good way to attract top talent but can increase the diversity of your workforce. Offering staff working patterns that suit their individual needs opens the work pool to a wider range of candidates.
Flexible working can also relate to where your employees work. Letting your staff work from home might suit companies who have limited office space, and who would otherwise struggle to accommodate all staff at the same time. As a result, you can reduce your office space and any overheads.
When you adopt flexible working practices, the benefits for your staff are numerous.
Staff will become more engaged with a job that, they feel, fits around their needs. This in turn improves productivity levels and helps build a culture that inspires people to do their best. For the bottom line this means increased employee loyalty and ultimately, improved staff retention.
Flexible working: the drawbacks
Flexible working is not without its drawbacks, and for managers, it can be particularly tricky to adapt to.
Not only is it harder to get teams together in a physical space, but unless you have constant communication between team members, it can also be a challenge to keep everyone in the loop. Trust issues might arise, particularly with managers who are used to managing staff face-to-face. Some employees can struggle with a lack of set routine or structure or may find they are more prone to being distracted.
Finally, without self-discipline and a clear schedule, lines between work and home/personal life can blur which means work life trickles into family life.
The era of agile work
So, let's look at agile work. What is agile working? According to Unilever, agile working is "an approach to getting work done with maximum flexibility and minimum constraints."
Whereas flexible working focuses on the employee, fitting around their work-life demands or constraints, agile working is really a company-centric focus.
An agile way of working tends to reframe work as an activity, rather than a place. By homing in on the requirements of the business, an agile approach aligns staff resources with those needs, with the aim of improving productivity.
An innovative workforce
You can unlock possibilities for creativity simply by giving employees autonomy and flexibility in terms of where and when they work, as long as their work is done within reasonable deadlines.
When you combine this with an agile office – fully flexible spaces that encourage interaction and creativity – you can really booster company performance.
Agile ways of working also have the capacity to inspire innovation. According to a recent report by Forbes, examining the success of flexible working, it was found that when organisations adopt flexible, agile working options, 71% reported their team became innovative, compared with 57% without flexibility.
The same report by Forbes found that when staff have flexibility in how and where they do their jobs, only 14% reported burnout symptoms, compared to 36% who have no flexibility in their work.
Happier staff
The benefits to companies on a personnel level are multiple. Flexible working patterns increase staff happiness and job satisfaction. This increased autonomy also contribute to higher staff retention whilst simultaneously enhancing the company's reputation as a 'great place to work'.
Ultimately, happier staff have a positive impact on client interactions. The mood of your employees can not only strengthen those all-important relationships but can help you cement a positive brand image.
Building your agile workspace with Clearooms
The way we work is evolving rapidly and the companies who embrace the agile model can reap clear benefits in productivity. To fully harness the opportunities of agile working and offer a flexible office space for your employees to use, you need an agile office.
From breakout spaces to quiet zones, creative hubs and formal meeting rooms, agile office design is about offering your staff a variety of spaces where they can feel productive and inspired.
Clearooms is an intuitive desk and room booking system that makes the job of managing spaces, meeting rooms and desks a lot simpler – putting you in complete control of your hybrid workspace.
Your staff can book rooms and desks on the go, using the Clearooms app, enabling them to organise their schedule and working day better, and feel in full control of their work.
Being part of an organisation that actively promotes an agile workstyle, offering autonomy over location, can really boost staff morale – and staff who feel happier will be more productive
Sign up for your free, no-obligation trial today
Ready to transform your hybrid workspace? Sign up for a FREE no-obligation trial of Clearooms meeting room booking system today. You can use all of Clearooms's features for free, for one month. Furthermore, there's no up-front payment required, and you're under no obligation to subscribe afterwards. Start your FREE trial of Clearooms today.
Get in touch today and have a chat with us.