21 Feb 2023
The advantages of booking a tailored meeting space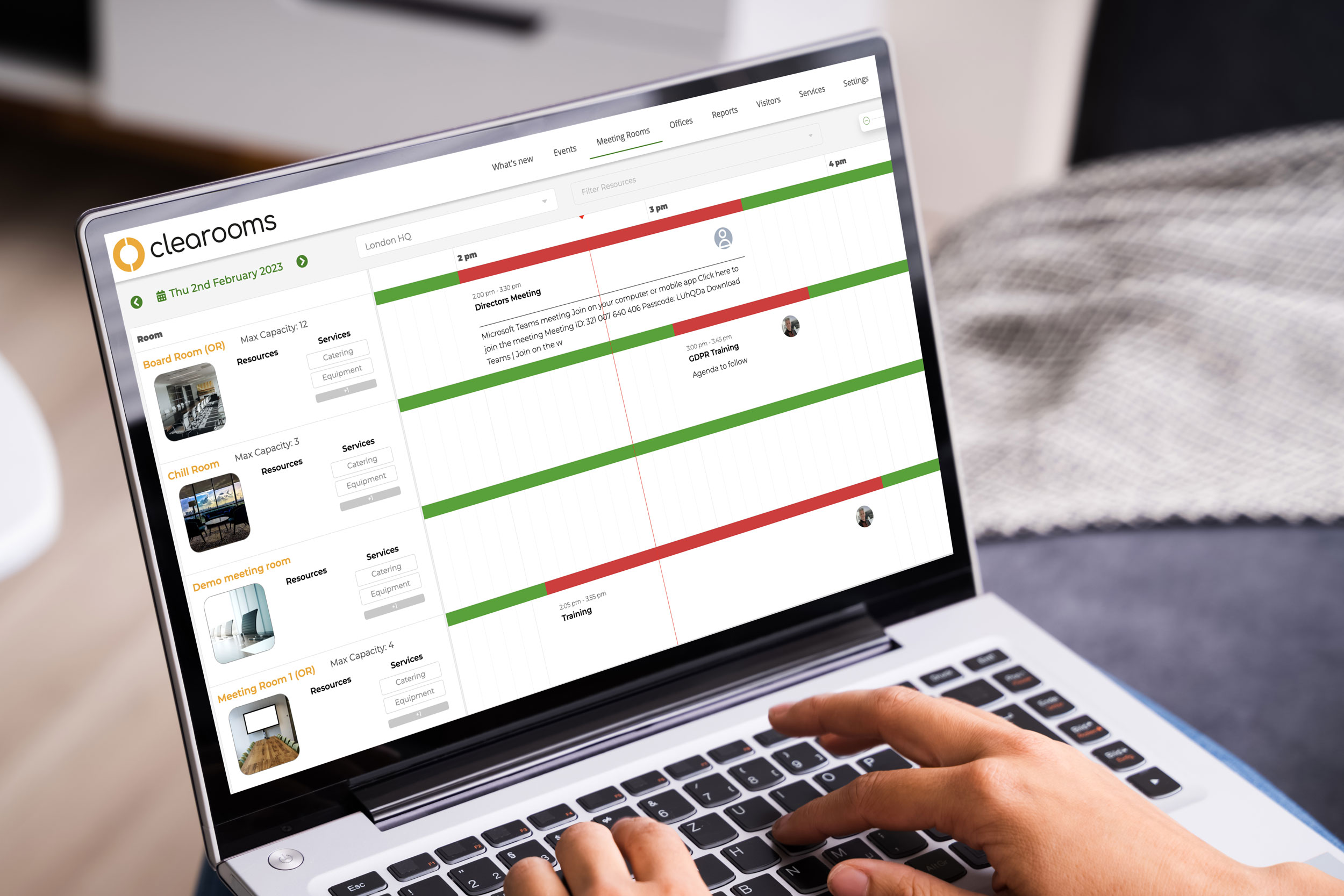 The post-pandemic work shift has brought a change in the way we work and hold meetings, with a rapid rise in the adoption of flexible working practices. With workers now based across multiple physical locations, such as the home, or shared office spaces, it's becoming more of a challenge to hold productive meetings.
Clearooms puts you in complete control of your hybrid workspace. Our all-in-one desk and room booking system means both meeting rooms and hot desk bookings can be easily managed, and you can be sure of securing a quiet, professional space for meetings,
Here are some of the key advantages to booking a fully-customisable meeting room:
A tailored meeting room
Rooms, just like meetings, come in all shapes and sizes so you can find one that fits your needs. Whilst a formal meeting might be best held in a boardroom, if you're having an informal catch-up with a handful of people, you may want a smaller room – one that's more conducive for a get together.
Coffee shops can offer a relaxed vibe but if you can't find a free space, your meeting may not go as you planned.
When you book a tailored meeting room through Clearooms room booking software, you can easily plan for the number of attendees. More attendees than expected? No problem, just update the online room booking software.
Using Clearooms' room booking software means not only do you have plenty of space, you're in full control of the layout too. Do you want it boardroom style? Оr maybe you're looking for an informal, breakout space. With Clearooms, you can tailor the room exactly the way you want it.
Professional appearance
First impressions really do count. Whilst getting together in a coffee shop or library might feel social, there are too many factors out of your control which could negatively impact your meeting.
A dedicated meeting space can go a long way to helping you enforce a positive brand image and convey professionalism.
Within the meetings tab of the Clearooms portal you can also specify if you'd like your meeting room to be custom-branded and add branding requests.
Convenience for all
From layout to catering, technology and support services, the Clearooms room booking system lets you build your meeting, your way. Simply add your requests to the meeting room booking, and the facilities and catering teams are informed.
By freeing up this valuable time, you can focus on preparing for the meeting itself.
Privacy and peace of mind
By using a reserved meeting room, you can be assured of complete confidentiality.
Four walls give you a secluded space for discussing important matters and mean sensitive information remains private.
For some people, holding a meeting in a busy coffee shop or other communal areas can be a nerve-wracking experience, particularly if they're self-conscious about speaking in public. A private meeting space can put people's minds at ease, paving the way for a productive meeting.
No distractions
Using a professional meeting room, you can help your delegates get in the right frame of mind. The right setting, free of distractions, not only helps you keep the meeting on track but will foster collaboration and increase productivity.
Opportunities for Collaboration
Bringing employees together in a physical, collaborative space, whether that's breakout style or a boardroom, can do wonders for boosting team working and productivity.
A conference room with top-notch AV equipment and wi-fi also means you can connect with remote staff, in real-time. This can go a long way in keeping your teams connected and engaged, and ultimately, improve their morale.
Resources, such as whiteboards, provide a physical outlet to brainstorm and document those precious ideas as you go along.
Support services at your fingertips
Booking a meeting room means you can plan ahead, and be sure that you have everything you need, within easy reach.
The Resources function in the Clearooms booking software gives you options to add items such as a conference phone, HD projector, and white boards to your meeting space.
With secure wi-fi, and printing and scanning facilities on hand, you can save a lot of time and stress – and be confident your meeting will go smoothly.
Keep your delegates happy with catering
With the Clearooms you can easily request catering services from your building's facilities team.
You can offer your delegates catering with various options for breakfast, lunch, and drinks.
These options can be set to manager and admin level within the portal, and you can specify how many hours notice is needed to request this service.
An economical solution
Permanent meeting rooms can eat away at your bottom line if they're not being used efficiently.
With Clearooms, you pay for the number of desks and rooms you wish to use, not the number of employees. It's easily scaleable, so you can simply update the app if your needs change.
This great value pricing model means you save costs, which, over time, positively impacts your bottom line.
Interested in saving money?
Sign up for a FREE no-obligation trial of Clearooms meeting room booking system today. You can use all of Clearooms's features for free, for one month. Furthermore, there's no up-front payment required, and you're under no obligation to subscribe afterwards. Start your FREE trial of Clearooms today.